It's not news that some of the best water sports and fishing sunglasses around are made by Costa. From crystal-clear images with their polarized 580 lenses, they're high on many people's wishlist for quality, premium shades. Here are our picks for the best Costa sunglasses for your days at the beach or on the water:
(This page contains affiliate links. OGR may receive compensation if you click a link and make a purchase.)
Best Costa Fishing Sunglasses
Costa Fantail
One of Costa's most popular models, the Fantail is a workhorse wraparound frame that gives you full vision protection from top to bottom and side to side. Made of super lightweight and durable TR-90 nylon, it's a medium-size frame that fits most faces like a glove.
They come with Costa's famed 580 lenses, natch. For the serious angler, the 580G glass lens gives the utmost in clarity and contrast, and is highly scratch-resistant. However, it's also a bit heavier than the more impact-resistant 580P polycarbonate lens. Either material works great, but the glass lens gets the edge.
Of course, all of Costa's sunglass lenses come polarized for excellent glare reduction for those cloudless sunny days on the water.
Costa Tuna Alley
Another home-run when it comes to fishing sunglasses, Costa's Tuna Alley is great for larger heads with its roomy fit. Also made of TR-90 nylon, it has a grippy hydrolite material that lines the temples and nose bridge, preventing the frame from slipping off or down if you sweat or get water on your face.
It stands up to the effects of saltwater, and the small vents on the bottom outer corners ensure a fog-free view. The 580G glass lens is tops in its class, and there's a choice of lens colors to suit the conditions you work or play in – neutral gray, blue, green, as well as a copper base option.
Costa Saltbreak
The Saltbreak is another core pair in Costa's arsenal. It's made out of their eco-friendly bio-resin material for near indestructibility and durability. One of their most comfortable frames, many users forget they're wearing them, even after a full day.
Hydrolite on the nosebridge and temples keep them firmly in place. There's additional hydrolite on the outer edges where the frame meets your cheekbone and the temple tips also flex a bit.
The 580G glass lens is highly recommended for amazing definition and crisp details. The lenses come polarized plus have an anti-reflective coating on the backside to prevent any glare or reflection off the inside.
Costa Reefton
The Reefton is a larger, rectangular frame that comes with integrated spring hinges. They allow the temple arms to open a little wider when you're putting them on, and are great for active sunglasses. The stainless steel hinges won't rust from saltwater exposure either.
As usual, a 580G glass lens is recommended. If you're looking for something that works well in overcast or partly sunny conditions, try a copper lens. The copper tint helps brighten your view while cutting out damaging UV as well as harsh yellow and blue light.
Best Costa Lifestyle Sunglasses
Costa Rinconcito
A smaller cousin to Costa's Rincon, the Rinconcito is a great everyday pair of sunglasses that can take you from the center of town to the open ocean. No sweat. It's basically a more petite version of the Rincon, so for those who liked the Rincon but felt it was too wide, try the Rinconcito on for size.
The TR-90 nylon frame gives you all the durability you'd expect from one of their more performance-based frames, with a bit of hydrolite rubber on the nosepads and temples for extra grip.
Costa Ballast
An oldy but goody, the Ballast has been around since 2004, and for good reason. It's a classic rimless pair that's ultra-light and comfortable, not to mention classy. There's no pressure on your nose or behind your ears, that's how light they are.
The 580P polycarbonate lens is a perfect match for this beauty, in your choice of tints. No wonder it's been a best-seller all these years.
Costa Apalach
Part of the Del Mar Collection, Apalach is made of acetate and comes in some cool colors and color textures like this shiny deep teal fade. It's got large lenses that give you excellent coverage, and only comes with the 580G glass lens (unless you're ordering prescription sunglasses).
Got an extra-large noggin'? Don't worry, this is one of their roomiest pairs of shades.
Best Costa Women's Sunglasses
Costa Waterwoman 2
If you're looking for some style and fashion with your beach-loving ways, look no further than the Waterwoman. Its oversize lenses have an oh-so-subtle lift at the temples, and provides excellent UV-protection and glare reduction with polarized 580 lenses.
The Waterwoman 2 is a larger version of the original Waterwoman, so if you've got a larger head or wider face, this one will be more comfortable.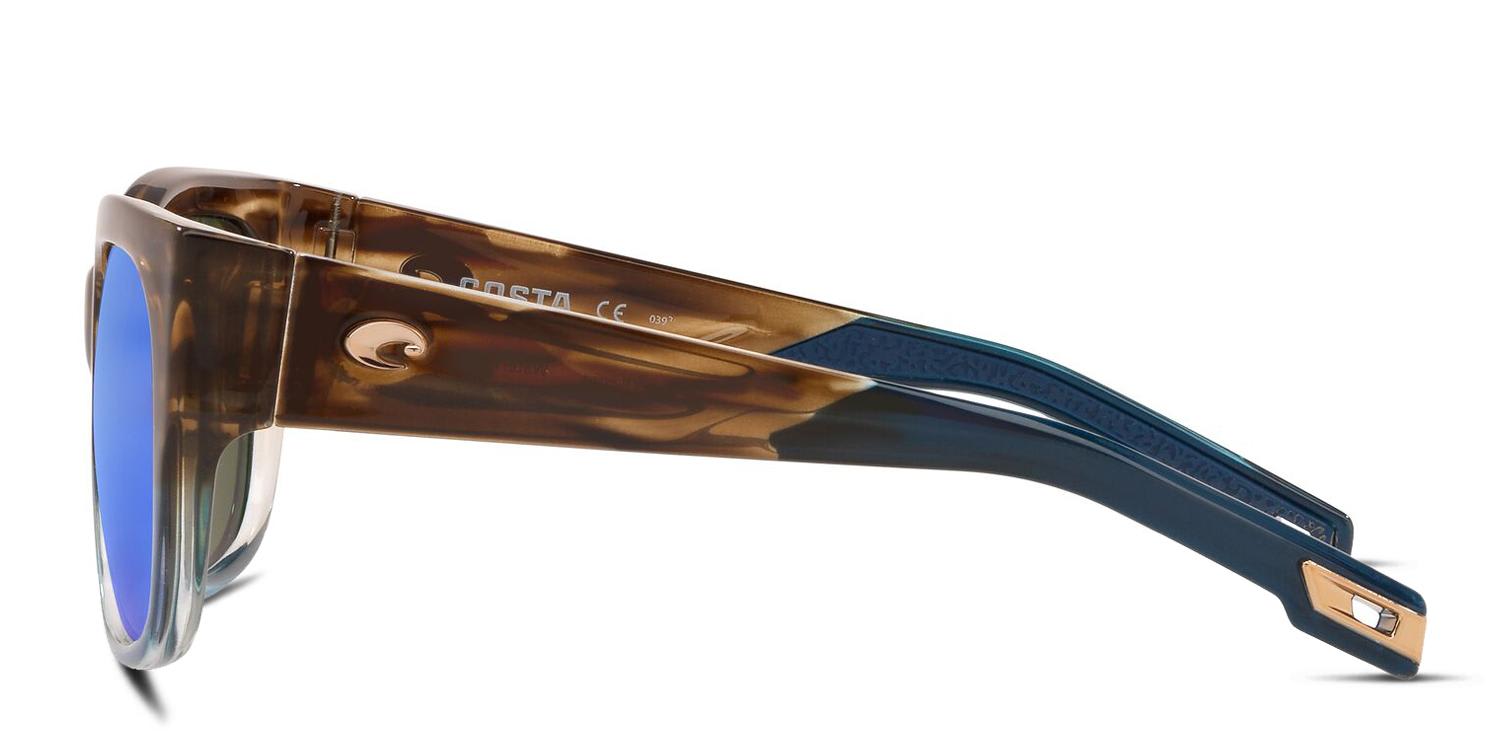 One other cool thing built into the frame are small holes at the arm tips for threading a retainer cord through. Don't want to lose this beauty!
Costa Maya
In a nod (we think) to the Yucatán peninsula, Costa's Maya is a gorgeous cat-eye frame that hits all the right notes. Made from their eco-friendly bio-resin nylon, it's lightweight, durable, and stays put on your face with hydrolite rubber tips and nosepads.
For pristine vision in a fashion-forward frame, the Maya has a shiny finish in a few different tortoise and solid colors.
Costa Loreto
Not into the chunky oversize frames or have a petite face? The Loreto is a great aviator frame for those with narrow faces and smaller features. The metal frame is corrosion-resistant, and the nosepads and temple tips include Costa's hydrolite material for extra grip.
It's available with either glass or polycarbonate lenses, so take your pick.