One of the biggest assumptions that workers make is that their regular glasses are adequate to keep them safe; and we know that assumptions are the mother of all problems. There is even an explicit requirement from the Occupational Safety and Health Administration for employees who wear prescription lenses or contacts to use personal protective equipment (PPE) that includes the prescription safety glasses or they must use eye protection that can be worn over prescription lenses. That law was made in reaction to the 2,000 daily U.S employees who get an eye injury on the job that requires medical treatment.
Sadly, most of these accidents are preventable; with three-fifths a result of workers not wearing prescription safety glasses. We searched far and wide to find the best prescription safety glasses so you won't lose any work time.
Bifocal Safety Glasses under $20
ArmouRx 6006
With foam eyecups and plastic side shields, the ArmouRx 6006 is one of the more affordable but decent Rx safety eyeglasses available. It also comes with a strap for extra security and no-worry protection. It comes in black, blue, or gray, and all lenses are made to ANSI-Standard specifications.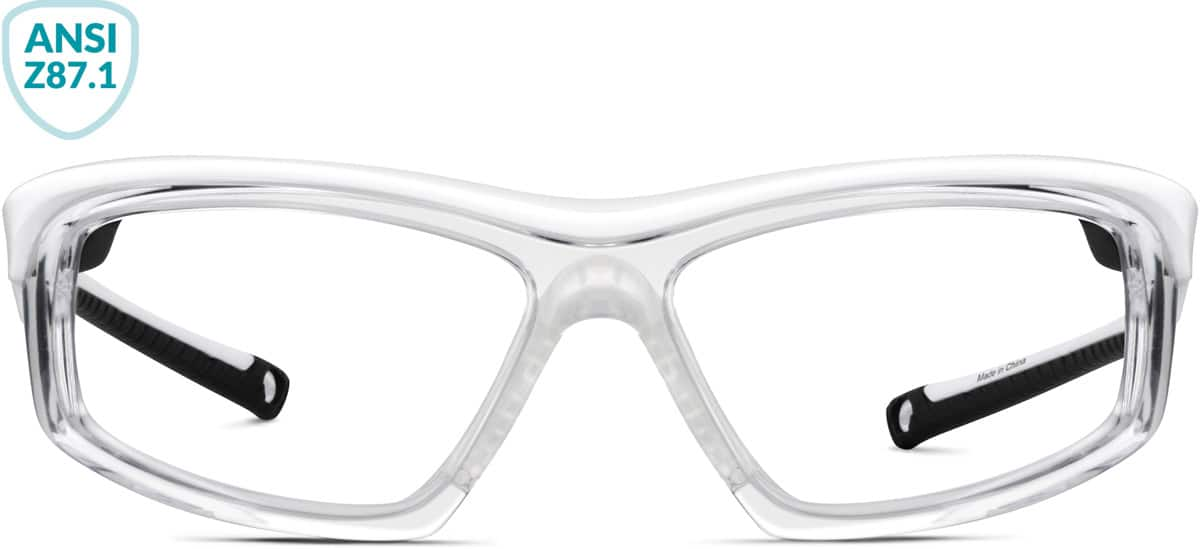 Z87.1 Safety Glasses 749930
Healthcare and frontline workers: if you don't want to wear contacts all day or cheap safety glasses over your Rx eyeglasses, this one's for you. This ANSI Z87.1 pair has wraparound lenses so your peripheral vision stays intact, and it's comfortable enough to wear your entire shift. The cushioning at the browline sits on your forehead for top enclosure and there's a flexible nose bridge for additional comfort. It doesn't even fog up when wearing an N95 or surgical mask either.
Oakley Industrial Det Cord
For the ultimate in safety sunglasses and style, the Oakley Industrial Det Cord is always a sure bet. Now, Oakley normally does their own impact-testing on all their sunglasses, but not all of them are ANSI-certified. The Det Cord is ANSI-rated and stamped (even with Rx lenses), so it will fulfill any work safety requirements. It's a one-size fits most, though it generally fits larger heads well. And when you're out all day in the sun, you don't need to worry about them sliding down your nose with the Unobtanium® nose pads that get tackier with moisture or sweat.

Eyres 628E Indulge
The Eyres 628E Indulge is a wraparound pair made from TR90 – a Swiss thermoplastic material that's lightweight, flexible, and ultra-durable. It's super comfortable and so feather light that you'll even forget you're wearing glasses. With curved lenses and rubberized nose pads, it will mold to your features effortlessly while providing plenty of protection for your peepers. You can customize your lenses for single vision, bifocal, or even progressive lenses, which come with a 365-day guarantee from manufacturer defects.
Wiley X Valor
For full ballistic or tactical eyewear protection, the Wiley X Valor is the gold standard bar none. It features shatterproof lenses that meet or exceed ANSI Z87.1-2010 high velocity impact standards for civilian use, MIL-PRF-32432 Military Combat Eye Protection Standard (MCEPS), and US Federal OSHA 1910.133(b)(1)(1) standards. The semi-rimless frame comes with rubber nosepads and temples, plus side shields and the lenses provide 100% UVA/UVB protection. Ensure visual clarity and crisp colors with authentic Wiley X lenses, or customize your lenses with SportRx lenses.

Titmus SW 10
The Titmus SW 10 Eyeglasses look the part. Available in solid black, black with a clear finish, brown, camo, tortoise, or white, set yourself apart from your colleagues by adding some glamour to your safety eyewear. The Titmus SW 10 prescription safety eyeglasses boast high-performing protection and sporty styling. Titmus Eyewear can be used in many different work spaces, including those that involve fire, heat, and chemicals.
The full rim frame is made specifically for safety lenses in order to meet the stringent ANSI standards. Padded temples and a molded nose piece are cut for a perfect fit that will keep you performing no matter the job. The quality approved "Uvex" logo displayed on the temple is to let everyone know you are protected. Great on both men and women alike.


Prescription Safety Glasses RX-15011
For safety glasses that still give you that hipster vibe, the RX-15011 from Rx-Safety fits the bill perfectly. With permanent side shields, this ANSI Z87-certified frame has a fully adjustable nose piece to ensure a snug, comfortable and secure fit. Customize your lenses with single, bifocal, or progressive correction, plus any extras like anti-fog, anti-scratch, or even custom tints. Hard to beat this affordable option when it comes to Rx safety eyewear.
IR Protection Safety Glasses IR-17004-BK
For welding and cutting, the IR-17004 has flip-up filter lenses with IR 2-8 shade protection against high intensity light and radiation. OSHA has guidelines for the appropriate shade number for various welding jobs if you're not sure what number you need. The clear, impact-resistant polycarbonate lenses are fully customizable to your Rx including bifocal prescriptions. You can also add anti-scratch and anti-fog coatings if needed too.
Side shields provide protection from flying debris or particles, and it fully complies with ANSI Z87.1-2010 standards.

Wiley X SG-1
The best-selling Wiley X SG-1 has been around for years and is still #1 because of it's versatility. Both the lenses and temples are fully convertible from clear lens to shades and from glasses to goggles, making it the perfect pair for motorcycle riding, shooting, and even skydiving.

Not only is it ANSI-certified, it also meets military ballistic standards for tough, durable but comfortable protection. (Tons of these are sold to the military every year.)
The frame is extremely lightweight and flexible, and fits most face sizes and shapes easily. It comes with a hardcase, goggle strap, and cleaning cloth. Best of all, you can get it with Rx lenses so you're seeing 20/20 at all times.

SPY Quanta 2
Taking safety glasses to the next level, the Spy Quanta 2 ANSI Safety Frames look more Oakleys than laboratory. You would expect these on somebody rolling down the street on a skateboard rather than carving some wood. But, safety style has moved into the next stage of fashion.
These aggressive SPY Quanta sunglasses are ANSI Z87.1 certified, meaning they are everything-proof. The Quanta sunglasses are more than just a stylish frame. They combines a secure fit with sophisticated aggressive lines to make for one very attractive set of sunglasses. They are built with indestructible Grilamid for comfort and durability.
So if you need to solder iron or chop wood outside in the sun, these won't let you down. The SPY Quanta's are also available with prescription lenses and provide 100% UV-protection.

How to Pick the Right Prescription Safety Glasses
Choosing the right pair is a matter of several factors. First, you need to choose what type to wear: this can be goggles for chemicals, specialized eye-wear for welding, and wrap around glasses for those who may come in contact with dust or flying objects. The next consideration is whether to go for over-wear or prescription. Those who have tried wearing safety glasses over normal glasses will know how clumsy and uncomfortable it feels, prescription safety glasses are a way better option.
Choosing the proper material is also an important decision. If you are looking for a new pair of safety glasses look for the American National Standards Institute that have a Z87 mark on the frame. Polycarbonate is the recommended material as it is stronger than glass, plastic, or trivex.
Getting the proper fit is the fourth factor you should consider. If the pair is not a snug fit to your face there may be a small gap which could allow pieces of debris to enter. Remember that 100 workers a day will get an eye injury which in some cases will mean they never return to work. So, give your eyes the importance they demand and choose wisely.