(This page contains affiliate links. OGR may receive compensation if you click a link and make a purchase.)
If there's a time that you really need to be sure you've got 20/20 vision, it's when you're riding your motorcycle. If you normally wear prescription glasses, you'll need a pair of prescription motorcycle glasses to be safe on the road unless you wear contact lenses.
Naturally, you'll probably want a tinted lens to protect your eyes from UV rays, but you can also get a pair with clear lenses. Great motorcycle glasses not only protect your eyes from sunlight but also from dust, wind, insects and tiny specks of gravel. They are also the most comfortable glasses for you to ride around in.
These glasses also give a cool look by supporting your outfit. Regular glasses just look out of place when you're in biker gear. A lot of riders wear their regular prescription glasses inside their helmet. This is extremely dangerous as these glasses can come off during high speed or accidents and cause damage to the eyes.
Prescription glasses specially made for bikers and motorcycle riders are the perfect fit for your eyes because they often come with straps and removable foam gaskets for a secure seal around your eye cavity.
Bobster Road Master
For the ultimate in comfort and practicality, the Bobster Road Master comes with photochromic lenses (adjusts from light to dark depending on the amount of light) and foam eyecups to keep out dirt and debris while you're racing or just taking in the scenery on the road.
It's also convertible from glasses to goggles with an adjustable strap. You can't beat the value for the price, plus you can customize it with Rx lenses for the vision-challenged.

Wiley X Gravity
A fan favorite for years, the Wiley X Gravity covers all the bases – it's nearly indestructible, has shatterproof UV400 lenses (the best sun protection available), and comes with a removable facial cavity seal to keep out dirt and debris while you're riding in the wind. Oh and did you know it's ANSI-safety approved? They're perfect as safety sunglasses while you're on the job too.
If you don't wear a full-face helmet, you'll definitely want the protection the Wiley X Gravity gives you while at top speeds. Visual clarity is excellent with anti-glare coatings, and wraparound lenses ensure good peripheral vision. Best of all, you can get them with Rx lenses.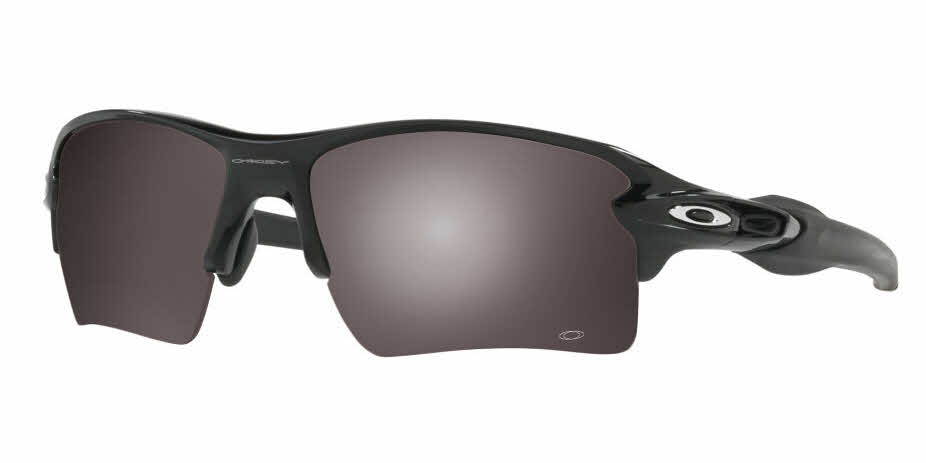 Oakley Flak 2.0 XL Prescription Sunglasses
Oakley created the Flak 2.0 from its popular O-Matter frame. This pair of glasses has a stylish wrap-around frame perfect for riding your hog. It features nose pads made from unobtanium and plastic lenses for high definition optics. The nose pads ensure these glasses won't slip off, and it comes in multiple lens and frame color options.

Spy Bounty
Spy's lineup of sport and safety sunglasses is second to none, and the Bounty is one of the most popular models. Built to ANSI specifications, the nearly indestructible build and crystal clear lens clarity make it both stylin' and sturdy enough to protect your peepers at top hog speeds. And naturally, you can get 'em customized with prescription lenses too.

Wiley X Airrage
The Wiley X Airrage oozes out style and sport with it's blue mirror lenses and sleek design. Perfect for smaller faces, it keeps dust and debris away from your peepers with the removable facial cavity seal. Symmetrical venting allows air to circulate (goodbye fog) and polarized lenses get rid of the glare when you're on the road.
It's also ANSI-rated so you know you're well protected. Recommendation: aside from your Rx, add anti-reflective coating for the perfect riding pair.

Wiley X P-17
If you're looking for a tried-and-true pair of riding sunglasses, the Wiley X P-17 has been a fave for years. The ANSI-approved wraparound frames are comfortable, stylish, and lightweight, with rubber temple tips and nose piece that keep them from slipping down. It's a streamlined frame without a removable foam gasket, so it's great for daily wear too.
Your eyes are protected from high-velocity impact behind tough polycarbonate lenses that block 100% of UV rays, and it comes with a lanyard that you can easily attach to the arms to create goggles or keep around your neck when you're not wearing them. You can choose from black or brown tortoise (pictured), with your choice of lens colors  – we're partial to the emerald green polarized mirror lenses ourselves.
If you're getting Rx lenses, you can choose between polycarbonate, trivex, or higher-index plastic lenses depending on your prescription strength.
Oakley Radar EV Path Prescription Sunglasses
The Oakley Radar EV sports cutting-edge eyewear technology with a sturdy, impact-resistant O-Matter frame and anti-slip Unobtainium ear and nose grips that only grow stronger the more you sweat. If you are wearing these bad boys while on your motorcycle, you will enjoy an extended view with improved peripheral vision and a taller lens design. Match that with an improved ventilation system for an anti-fog view and you are set for hours.
It's important to note that the Rx lens is embedded into the main view-through area, it does not cover the entire shield surface.
Rx Safety JY7 Prescription Safety Goggles
If you wear a half-helmet, a pair of goggles will ensure your eyewear stays put while you're out on the road. Rx Safety's JY7 goggle is a lightweight, TR-90 nylon pair with removable foam gaskets, fully adjustable rubber nosepads, and a detachable strap.
You can customize your lenses with single vision, progressive, or lined bifocal prescriptions, and add your choice of tints and coatings including polarization and photochromic (light-transition) options.

Wiley X SG-1
The best-selling Wiley X SG-1 has been around for years and is still #1 because of it's versatility. Both the lenses and temples are fully convertible from clear lens to shades and from glasses to goggles, making it the perfect pair for motorcycle riding, shooting, and even skydiving.

Not only is it ANSI-certified, it also meets military ballistic standards for tough, durable but comfortable protection. (Tons of these are sold to the military every year.)
The frame is extremely lightweight and flexible, and fits most face sizes and shapes easily. It comes with a hardcase, goggle strap, and cleaning cloth. Best of all, you can get it with Rx lenses so you're seeing 20/20 at all times.

How to Pick the Right Prescription Motorcycle Glasses For You
A lot of prescription motorcycle glasses on the market are photochromic. Some people call them 'intelligent lenses'. Photochromic classes change color with exposure to the rays of the sun. This means they can darken or lighten based on the amount of sunlight in the environment. So, on a sunny day, these glasses will give a darkened tint and indoors or on a cloudy day, they would have the brightest tint. These are the best types of prescription glasses to buy.
Photochromic prescription motorcycle glasses were developed in the 60s to fill the need for bikers and motorcyclists who had eye defects and still wanted to ride motorcycles. The glasses lenses are made of plastic or polycarbonate material. This ensures that in case of accidents they do not shatter into tiny pieces and damage the eye further. They are protective gear and are produced as such.
The most important feature of these glasses is that they offer ease of riding and pleasure. When you put them on, it becomes easy to see clearly without worrying about bright light from the sun or the weather. They will definitely improve your motorcycle riding.
What to look out for when buying prescription motorcycle glasses
Prescription motorcycle glasses come in different types, colors and specifications. There are some factors to keep in mind before you make a purchase. We will go over them lightly in this article and then review a few glasses for you.
Type of Helmet
This is the most important thing to consider when purchasing a pair of motorcycle glasses is your type of helmet. Full faced shielded helmets require a different type of glasses compared to open faced helmets. You have to get the pair that's just right for your helmet.
For open faced helmets you need prescription motorcycle glasses that have wind protection. We recommend the full wrap around glasses. The frames can be wrapped around your head and they usually come with a foam eye cup to seal the glasses. This is the part that keeps the wind out of your eyes.
If you've got a full face helmet, you need motorcycle classes that are convenient for it. We recommend you get glasses that have a straight back with thin temples so you can easily take them on and off. They also fit perfectly under the helmet and cause no discomfort.
Lens Color
There are several colors for lenses of motorcycle glasses. The most popular colors however, are red, yellow, smoke and clear. Clear lenses are okay for all day use, while the other colors should only be used during the dat. They should never be used at night because they are already tinted and this is unsafe. If you'll like your glasses to automatically change tints, we recommend photochromatic glasses which we explained above.
Prescription Motorcycle Glasses Cases
Cases are important for your glasses. If you're going to be riding your motorcycle frequently, you should check if the glasses you intend to purchase come with a pouch or a protective case. Cases make it easy to keep your glasses and carry them around.
Adjustable Lenses
These are usually rare but you can get prescription motorcycle glasses which allow you change lenses over time. These glasses allow you either adjust the lenses or swap them.