(This page contains affiliate links. OGR may receive compensation if you click a link and make a purchase.)
Here at Online Glasses Review, it goes without saying that we think Warby Parker is the best online brand of affordable and stylish glasses. As our #1 rated retailer, it's clear they're onto something. The popularity of their glasses have exploded since the company launched, and they've opened several brick and mortar stores around the country.
If you don't live near a retail location, you can always take advantage of their free Home Try-On Program. They also have a virtual try-on for Apple iPhone X and above. For more info on Warby Parker, check out our review and FAQs.
To help you choose between the latest and greatest, we decided to pick our favorite frame each month in both mens and womens styles.
Use Up Those FSA/HSA Dollars Before 12/31!
Men November 2021
Great for broader faces, Briggs is a perfectly round lens frame with a 21mm keyhole bridge. It's no-fuss style gives you that bookish look, whether you're buried deep in your latest fantasy sci-fi novel or just trying to capture that cute librarian's heart. Try it on for size with their free home try-on.
Women November 2021

What beauty there is in the gentle sloping hills of the English countryside…as well as the Madeleine frame's sloping cat eye. It's oh-so-feminine shape is coy and flirty, but in a sweet way. We're partial to the translucent orchid hue, but it's also available in a light tortoise and a two-tone pink crystal too.
Men October 2021
If you're tired of the usual black or tortoise colors but don't want anything too flashy, consider a dark graduated navy like the Elias frame in Midnight Crystal Fade. Measuring 136mm across, it's a good fit for most average size faces. Single-vision Rx lenses are included in the price, or upgrade with light-transitioning lenses so you're all set both indoors and outdoors.
Women October 2021
There's nothing square about the Landon in a rich, deep green (well, except for the lens shape). If you like larger lenses, this one is great for extra surface area without overwhelming your face. It comes in both medium and wide, and is also available in a dark tortoise too.
Men September 2021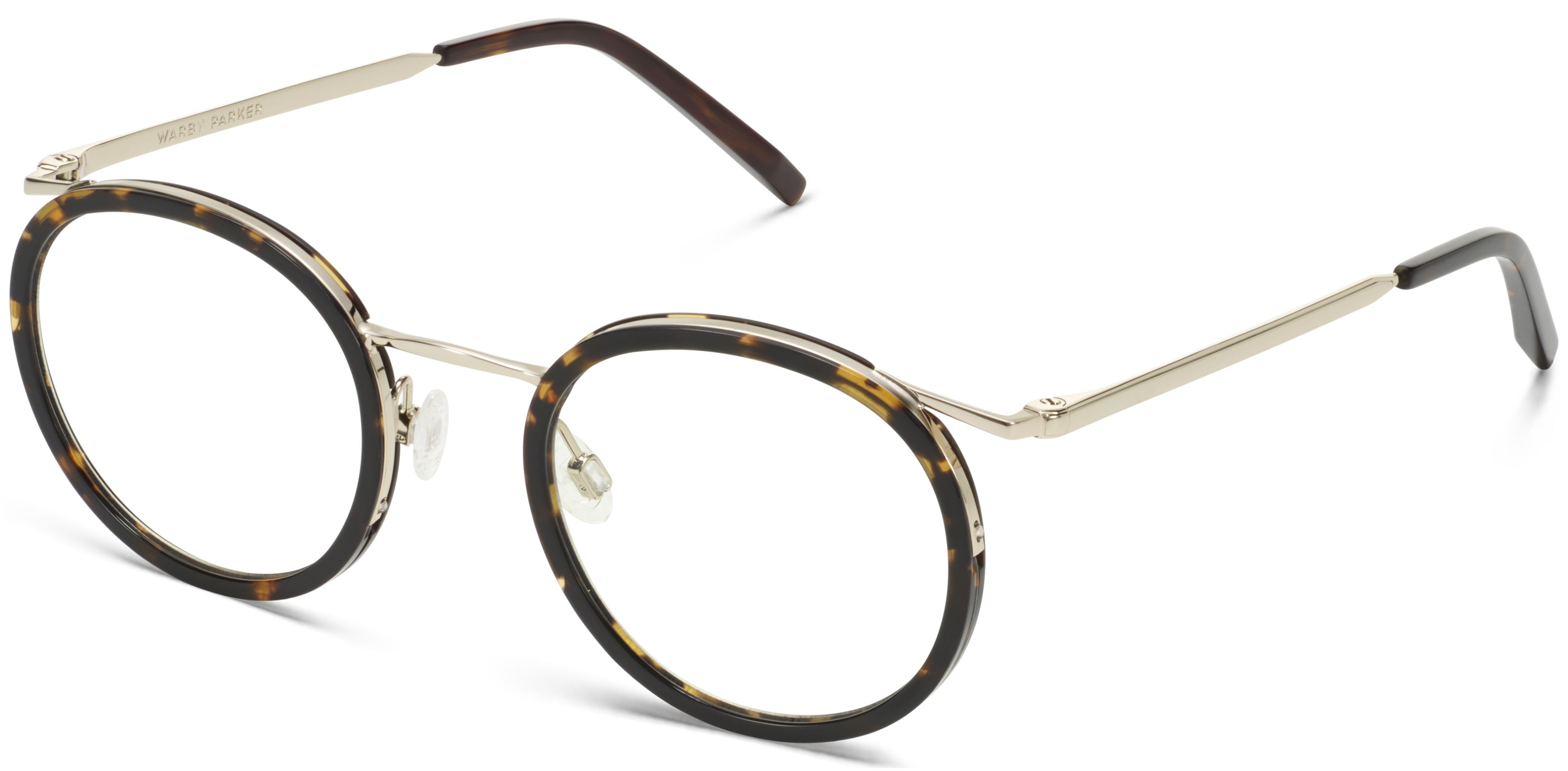 A cool twist on the traditional round frame, the Bergen is part of Warby Parker's new Floating Metal Collection where the brow and temple pieces are set back from the lenses. It really highlights your eyes as the center of attention. And if you want them as both regular glasses and sunnies – you can add light-transitioning lenses so they're both in one pair!
Women September 2021
Ladies, ladies, ladies. Take a gander at the Nadia frame with its soft cat-eye shape and pearlescent color. It's a cute little number that measures 133mm across, so it fits most average-size faces. Single-vision Rx lenses are included at no additional cost, and it also comes in a bolder red crystal if that's more your thing.
Men August 2021
It's back-to-school time, which means, amongst other things, it's time for a new pair of glasses. The Brady is a squarish-rectangular frame that's available in 3 sizes – medium, wide, and extra-wide. Try it on in the comfort of your home for free to see which fits you best.
Women August 2021
Ooh la la, we just licked our lips at this beauty. The Sanaa is a cross between a cat eye and an aviator frame that make the style gods proud. The gold metallic frame is handcrafted in Italy, with gradient lenses and a sophisticated tortoise on the lens rims. Get it as is, as readers, or with Rx lenses (including progressives).
Men July 2021

Some frames will always be in style – and the aviator is one of them. Made of super lightweight stainless steel, the York is a classic that suits nearly any face shape. It also comes in silver or rose gold. Try it on virtually with Warby Parker's iOS app to see how you'll look in them.
Women July 2021

Make a statement with the darkly bold and rich Irving for that sexy librarian look. A big-but-not-too-big frame, it fits broader faces well, measuring 47-23-145 (lens width, bridge, temple length). Also available in a gray-blue crystal.
Men June 2021
With polarized blue lenses, the Madox in Striped Sassafras is classy and preppy while it protects your peepers from the midday sun. No more glare while you're driving around town, it's perfect as is, or, if you need, customize them with Rx lenses.
Women June 2021
It's been a while since we've picked a clear frame, so when we came across the Felix with it's crystal lenses and oak temples, we couldn't resist. It goes with all looks without overpowering your face. The total width measures 135mm across, and it has a comfortable 19mm bridge. If you've got an iPhone X or higher, try them on virtually to check them out.
Men May 2021
There's something about green lenses and brown frames that just go together like chocolate and caramel. This one is a keeper for that preppy summertime look, whether you're going on a daytrip to the mountains, lake, or seashore. It's available in both medium and wide widths to fit most faces.
Women May 2021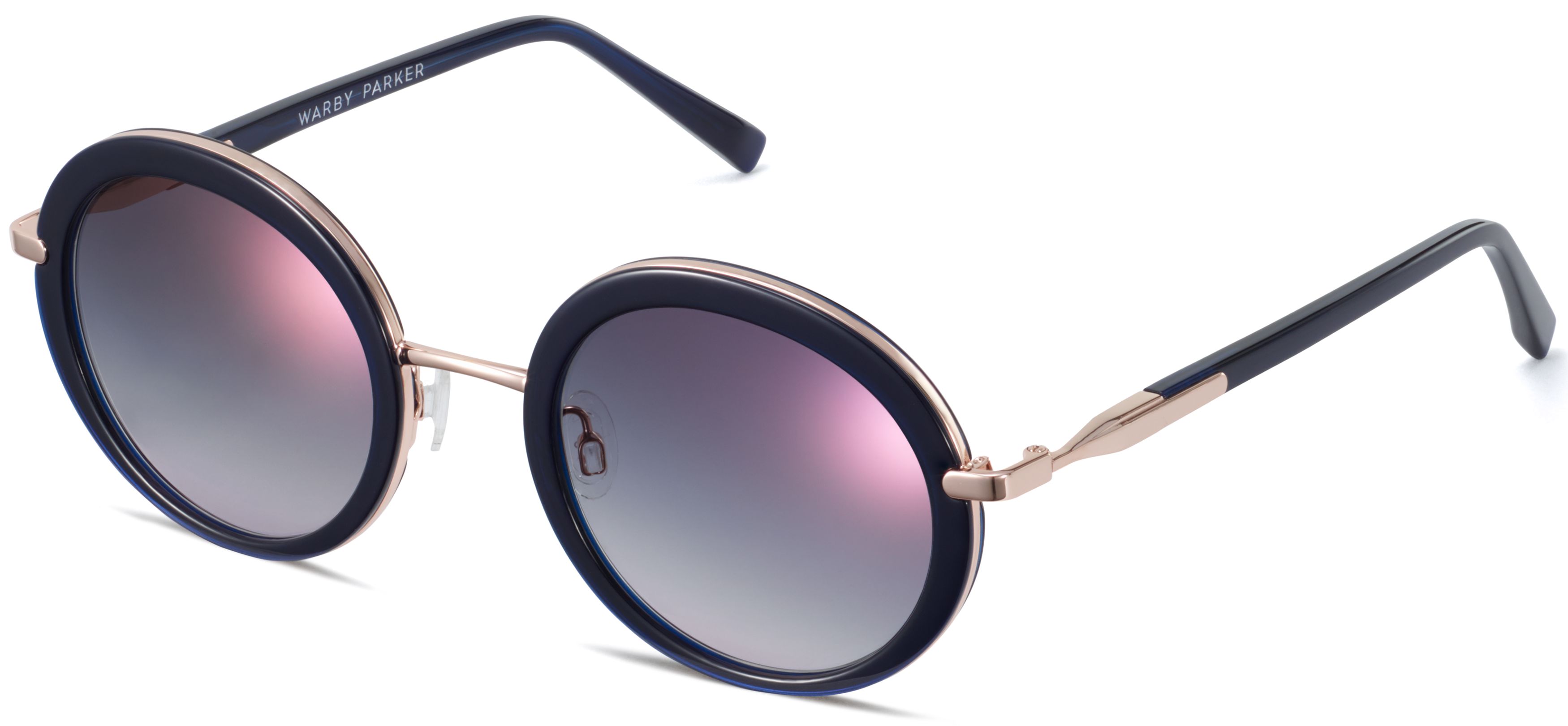 Oooh la la…is what the Harriet in Lapis Crystal would say if it could talk. A modern retro round frame, it has a layered metal design with beautiful rose gold accents around the rims and temples. Perfect for wider faces, it's 100% UVA/UVB-blocking, and is also Rx-able.
Men April 2021
A rounded square frame, the Turner is an instant classic that doesn't overpower your face with it's subtle translucent chestnut coloring. It comes with single-vision polycarbonate lenses, plus a cleaning cloth and hard case, all included for less than $100! Can't beat that with a stick.
Women April 2021

"O Shea can you see…" – yes indeed we can! This one caught our eye immediately for it's gorgeous aqua-green hue and of course, it's uplifted cat eye temples. It's elegance personified with a pop of color. Great for smaller to medium-size faces, you can also get it in a yellow tortoise too.
Men March 2021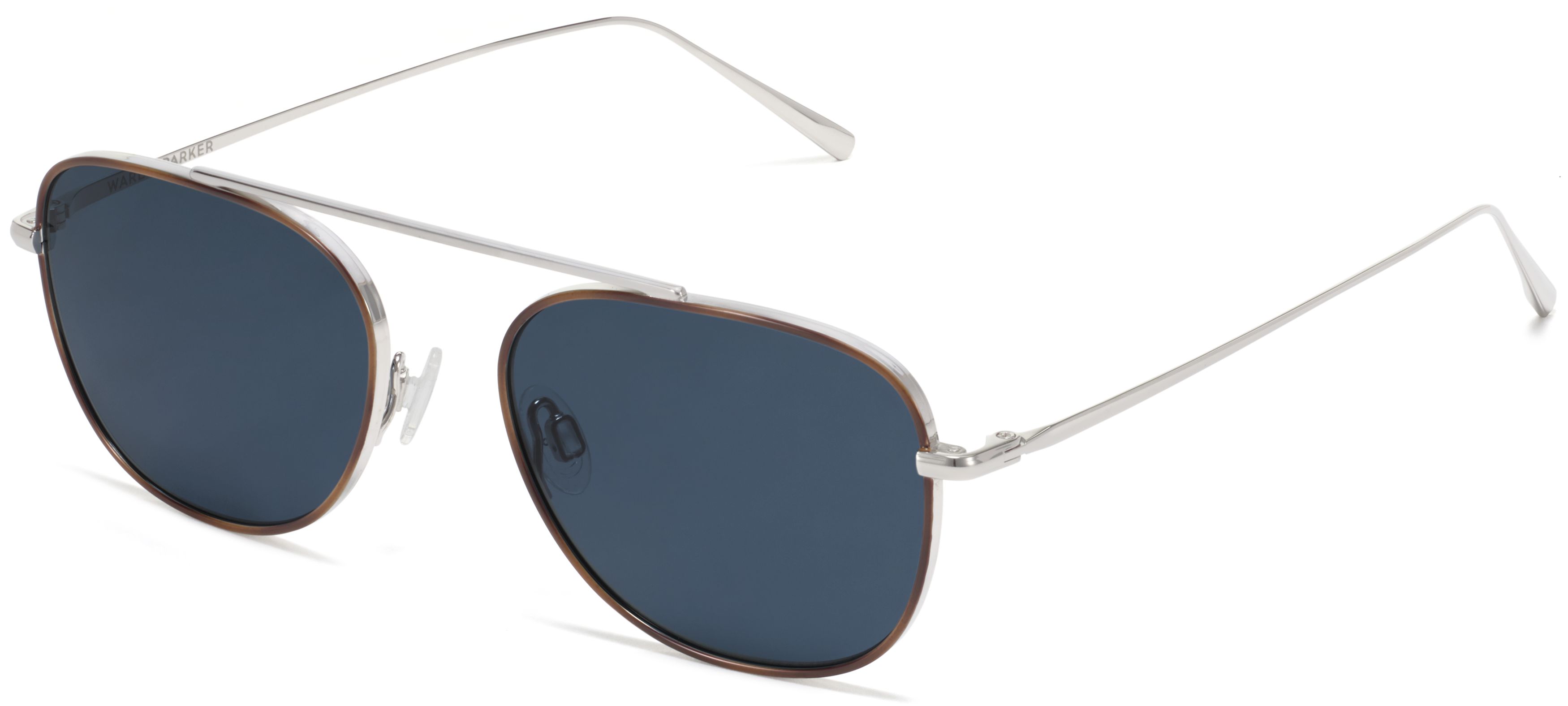 Come on spring, we know you're right around the corner. Which means it's time to get some new rockin' shades! If you like simple, clean designs, you'll want to take a gander at the Bolton with it's semi-aviator lenses and single browbar across the top. Made of lightweight, sturdy titanium, it's a lot more durable than it looks.
Women March 2021
Y'alls know we can't stray far from the always-in-style cat eye, so here's our latest choice pick with the delicious Delaney in Tea Rose Fade. A sophisticated dual-tone pair, the sloping curves gives you 100% coverage to protect your peepers from UV rays while you're out and about. It's also available in a tantalizing tanzanite tortoise too (say that 3 times fast!).
Men February 2021

Can't think of a better frame in February than the Conley in Arctic Blue – brrr! It's a square acetate frame with gray-blue hues and temple rivet details for a bit of schnazz. Pick it up for only $95 including Rx lenses.
Women February 2021

It may be cold outside, but you've still got that lovin' feelin'…especially with the pretty in pink Nellie. Just in time for Valentine's Day, this round pair is roomy enough to fit wider faces comfortably. Have an expired prescription? Check to see if you can get it updated in a jiffy with WP's prescription check app.
Men January 2021

Alright 2021, what have you got for us? Hopefully clear vision at least. If you were waiting for your vision benefits to kick in again, go get that eye exam. And maybe a new pair of specs like the always-in-style rectangular Roosevelt, here in a brown shale coloring.
Women January 2021
If you've got a petite or narrow face, you might have been forced to choose from youth glasses before. Well, no need with the Darby. It measures 128mm across and has a slender build from top to bottom for a snug fit on delicate features. The blue tortoise color gives it just the right amount of pop.
Men December 2020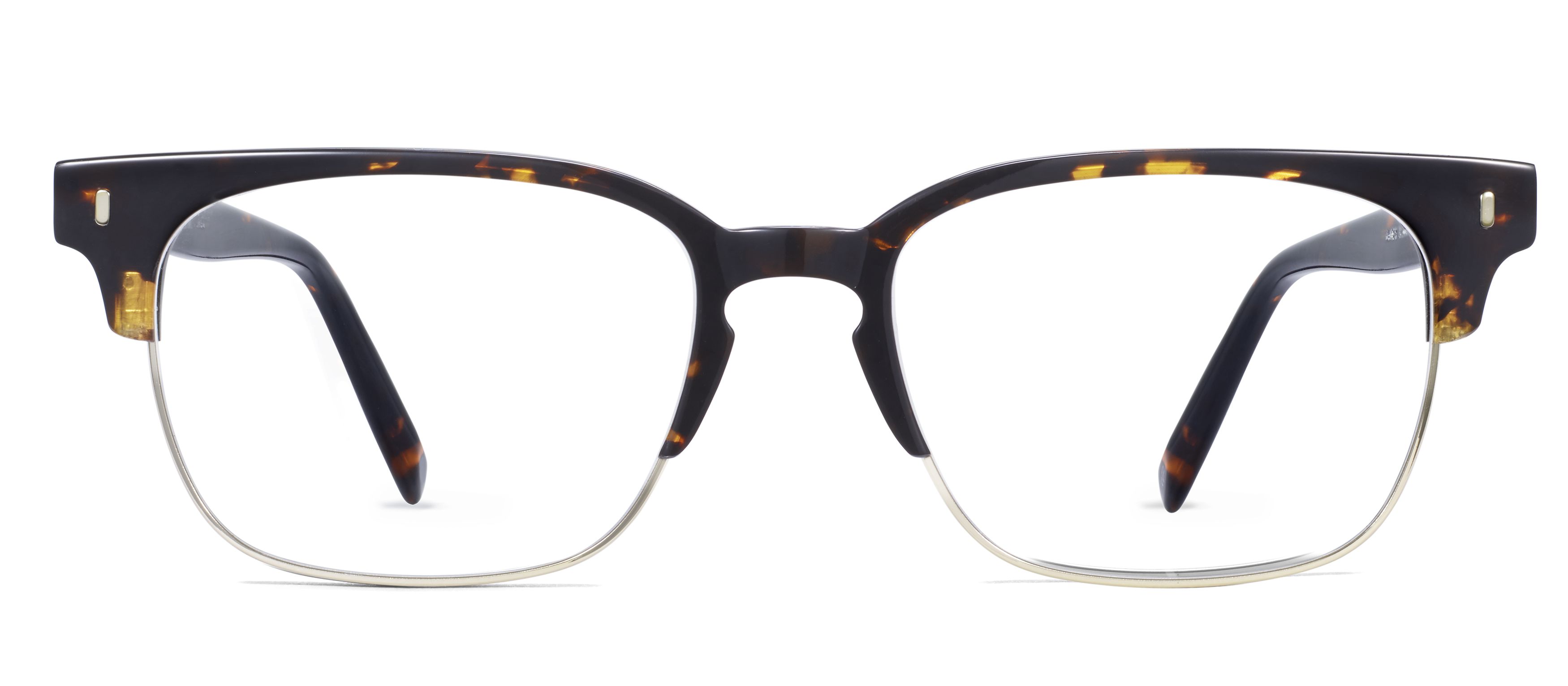 Well, here we are peeps, at the end of a strange and stressful 2020. Make sure you're seeing 20/20 with a classic browline pair like the Ames in a dark tortoise. It's a roomy, wider frame that's easy to wear and goes well with any look. Use up any remaining FSA/HSA funds before the end of the year!
Women December 2020

Another wider frame, the Campbell is a sophisticated, elegant pair that works with your features, not the other way around. It has adjustable nosepads, a stainless steel wireframe, and a smoky dark grey color. If one pair isn't enough, save 15% til the end of the year when you buy 2!
Men November 2020

One of the best things about glasses these days is that manufacturers are finally making frames that fit more diverse facial features. If you've got a lower profile nose, high cheekbones, or a wide face (or all three), Warby Parker offers many of their popular frames in a Low Bridge Fit. This clear pair is comfortable, easy on the eyes and on your wallet.
Women November 2020
It's definitely time to get a little catty with the exquisite Lindley frame. With uplifted cat eye temples and a light, mother-of-pearl tortoise coloring, it's the perfect complement to help soften square or more angular face shapes. Enjoy your flirty femininity with this lightweight pair.
Men October 2020

It's easy to love and wear a classic round frame like the Morgan. It's no snoozer though, with the shiny, bold blue coloring and graduated rivets at the temples. Available in a narrow width, this pair is perfect for slender faces. Not sure if it will fit? Try it on for size.
Women October 2020

Since we're on a color kick, why not add some pizzazz with the Ira in it's berry punch hue? Great on warm skin tones, the horizontal oval lenses have a slight lift near the temples for that elegant cat eye look. Not bad for less than $100 all-in including Rx lenses.
Men September 2020

If you're the blocky glasses sort, do we have a pick for you. Warby Parker's Winston is just the right mix of angular lines and boldness that get you noticed the minute you walk into a room. If the two-tone coloring isn't your style, it's also available in jet black or a rich, dark textured brown. Don't have a valid prescription? Renew it with their prescription check app.
Women September 2020

What can be more rad than the Radlett frame? (Honestly, I wonder who assigns the names to each pair!) A mix of stainless steel and painted acetate, these spectacles are perfect for those with narrower faces and delicate features. Note: the blue browline is closer to a darker navy color than pictured.
Men August 2020
It's that time of year again…yes kids, that's right, it's back to school soon (though who knows what that means this year). In any case, the Baker checks all the right boxes if you're looking for a new pair of prescription specs. Classic round frame? Check. Goes well with all looks? Check. Easy on the wallet? Check.
Women August 2020

This pair in a light tortoise color combines two shapes you might not think would go together well – square and cat eye. But, the Esme brings them together beautifully, giving you lots of lens coverage up, down, and all around. Not sure if they'll work for you? Take them for a test drive to see how they'll look and feel with the free Home Try-On.
Men July 2020
While the year 2020 might not be that great so far, don't compromise your 20/20 vision. The Gavin is a unique pair of specs with geometric angles on the browline married with rounded bottom curves. Made with stainless steel and acetate, the pair is lightweight, comfortable, and fits narrower faces to a T. Do a virtual try-on right from your iPhone for a quick look-see.
Women July 2020

I don't know why, but I love colored translucent frames. The light blue periwinkle crystal make the Weathers a welcome addition to Warby Parker's lineup of rectangular glasses. Single-vision Rx lenses are included for free, of course. If you're a device-addict like me, you'll also appreciate the option of adding a blue-light filter to your lenses too.
Men June 2020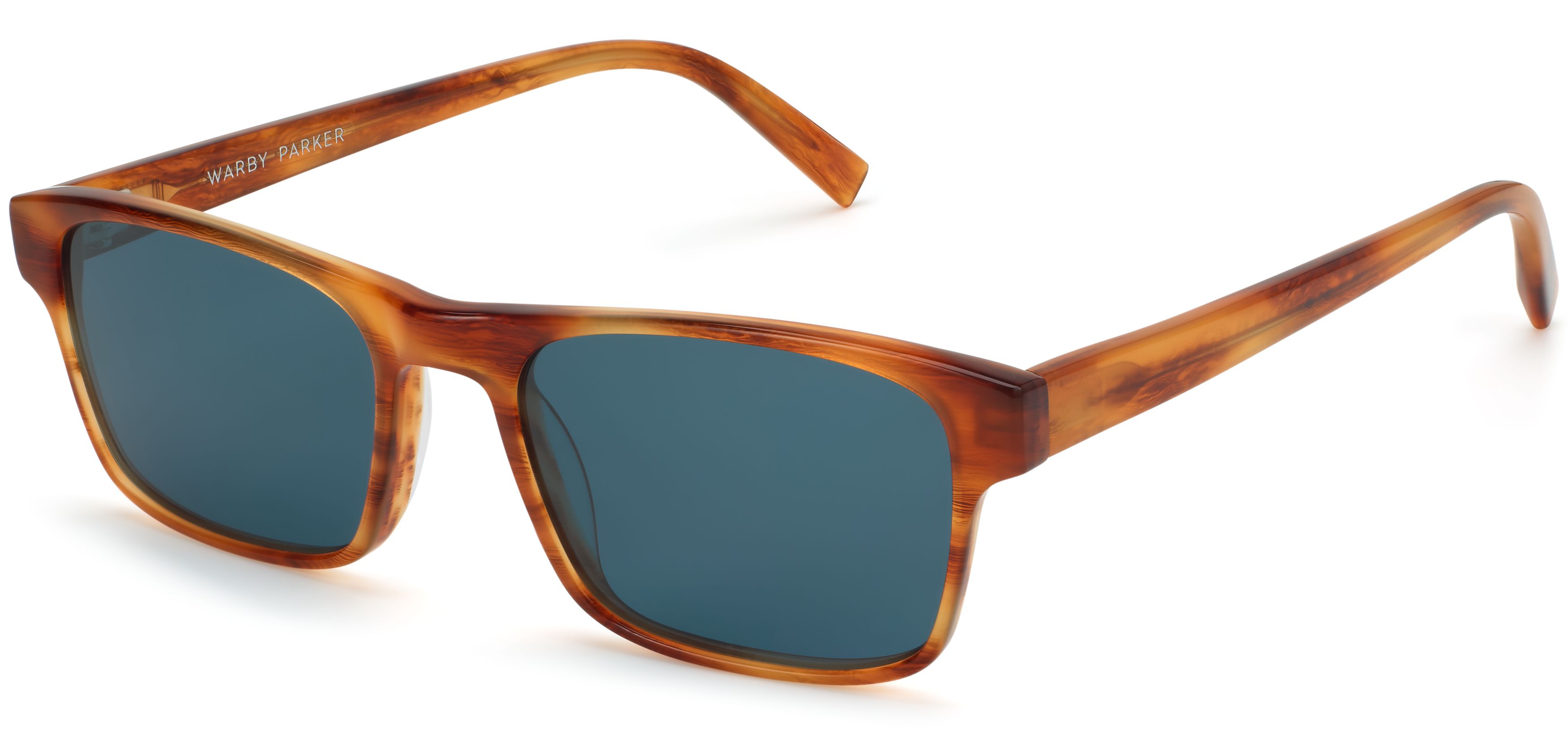 Say hello to June with a new pair of stylin' shades – in this case, the rectangular Perkins in a light brown oak color. With polarized, 100% UV-blocking gray lenses, this pair is perfect for relaxing on the deck, driving around town, or a day at the beach. Get them with Rx lenses for $80 more (remember, Rx sunglasses are covered by your FSA/HSA).
Women June 2020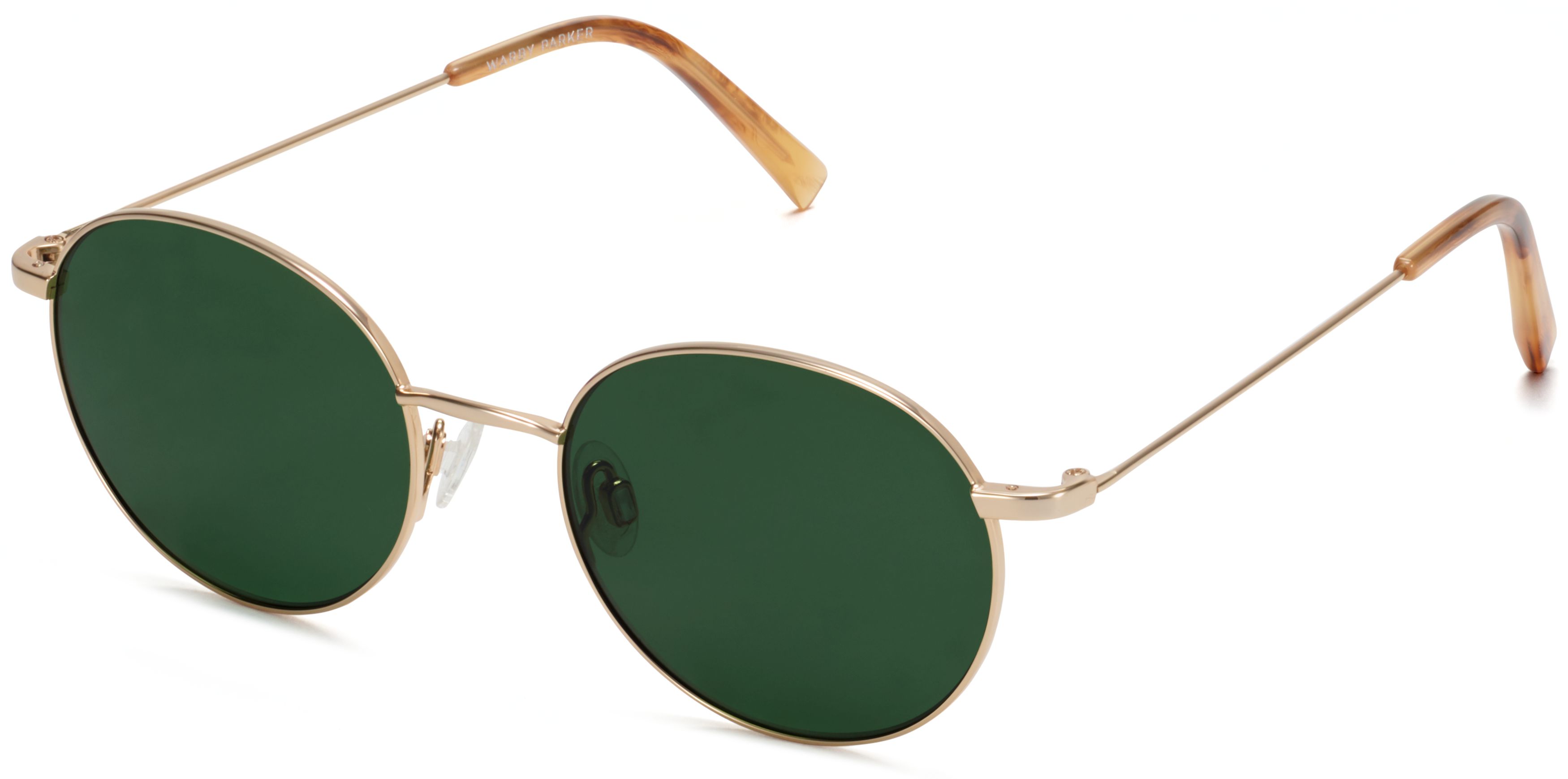 Warby Parker's Merrick is a classic round pair with green lenses set inside a gold metallic wire frame. It's lightweight and exceedingly comfortable to wear, with adjustable nosepads and polarized, UV-blocking, scratch-resistant lenses. If you experience any scratches on your lenses within a year of purchase, you can always get them replaced, for free.
Men May 2020
In these strange and trying times, just because you should be social-distancing doesn't mean you don't need to shade those peepers. The Percey is one of Warby Parker's most popular round lens frames, and for good reason. It's a classic, which means you'll always be on trend. It's available as is, or you can add Rx lenses (remember Rx sunglasses are FSA/HSA-eligible).
Women May 2020
The Rhea is a sophisticated, oversize cat eye frame that comes in a rich, dark tortoise and dark gray lenses. It fits most faces comfortably and comes with a scratch-resistant coating plus 100% UV protection. Also available in Jet Black or a light pink crystal color too.
Men April 2020
The Brennan is a classic rectangle frame with a keyhole bridge. It's specially made for broad faces, with a comfortable wide fit (140mm across from temple to temple) or extra wide (146mm). Try it on for size with the free Home Try-On.
Women April 2020
Can't decide between round or square frames? Get them both with this pair – the round lenses are framed with some square angles on top of the bridge and browline. The marbled gray color is rich, sophisticated, and excellent on porcelain skin.
Men March 2020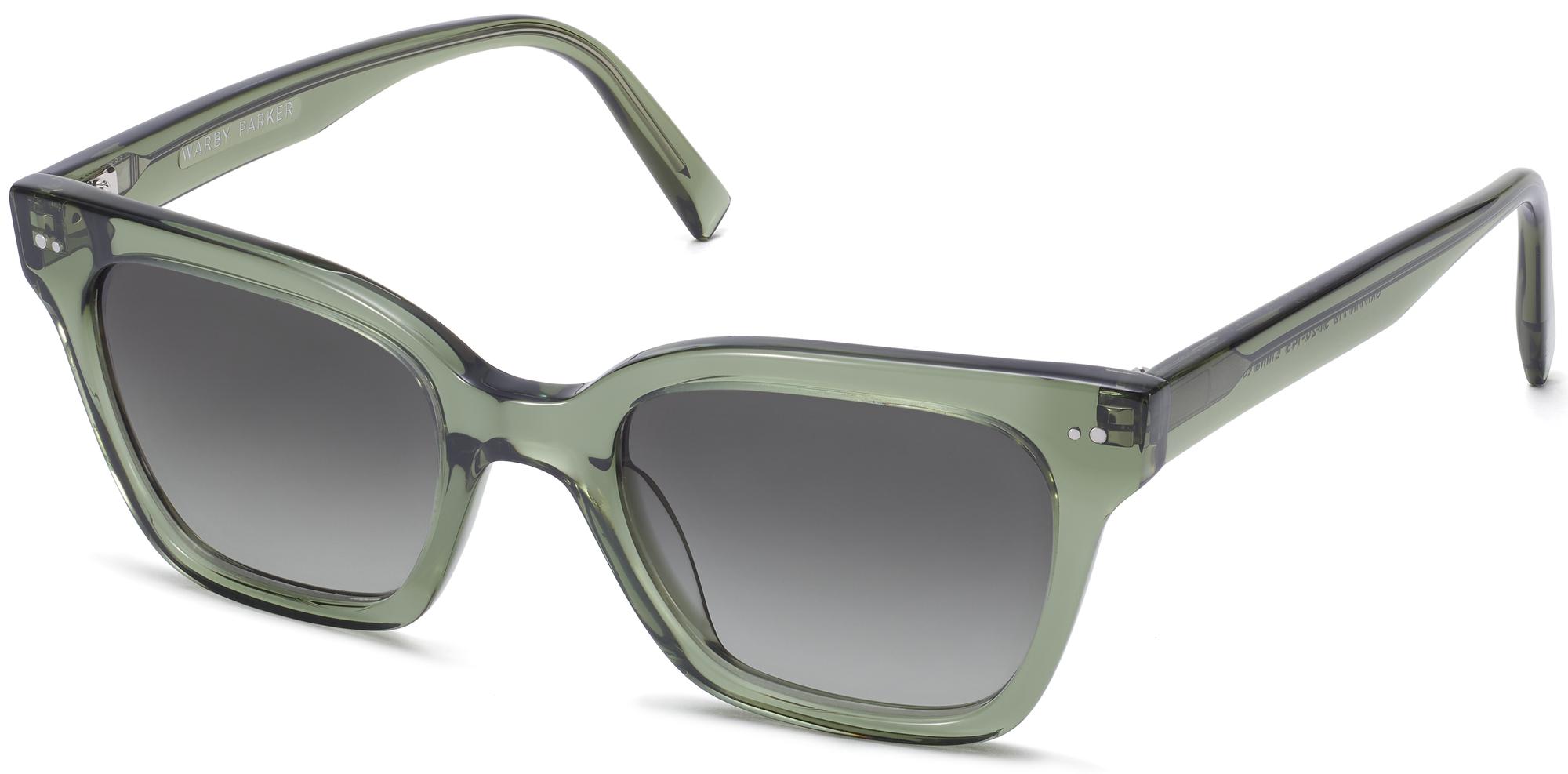 Since we're predicted to have an early spring this year, it's not a bad idea to start looking for some rockin' shades. If you've got a broad face, the Beale is a winner with it's wide width at 143mm from hinge to hinge. The translucent green frame is paired with gray 100% UV-blocking lenses, making anyone look like a smooth operator. You can also get Rx lenses for an additional $80.
Women March 2020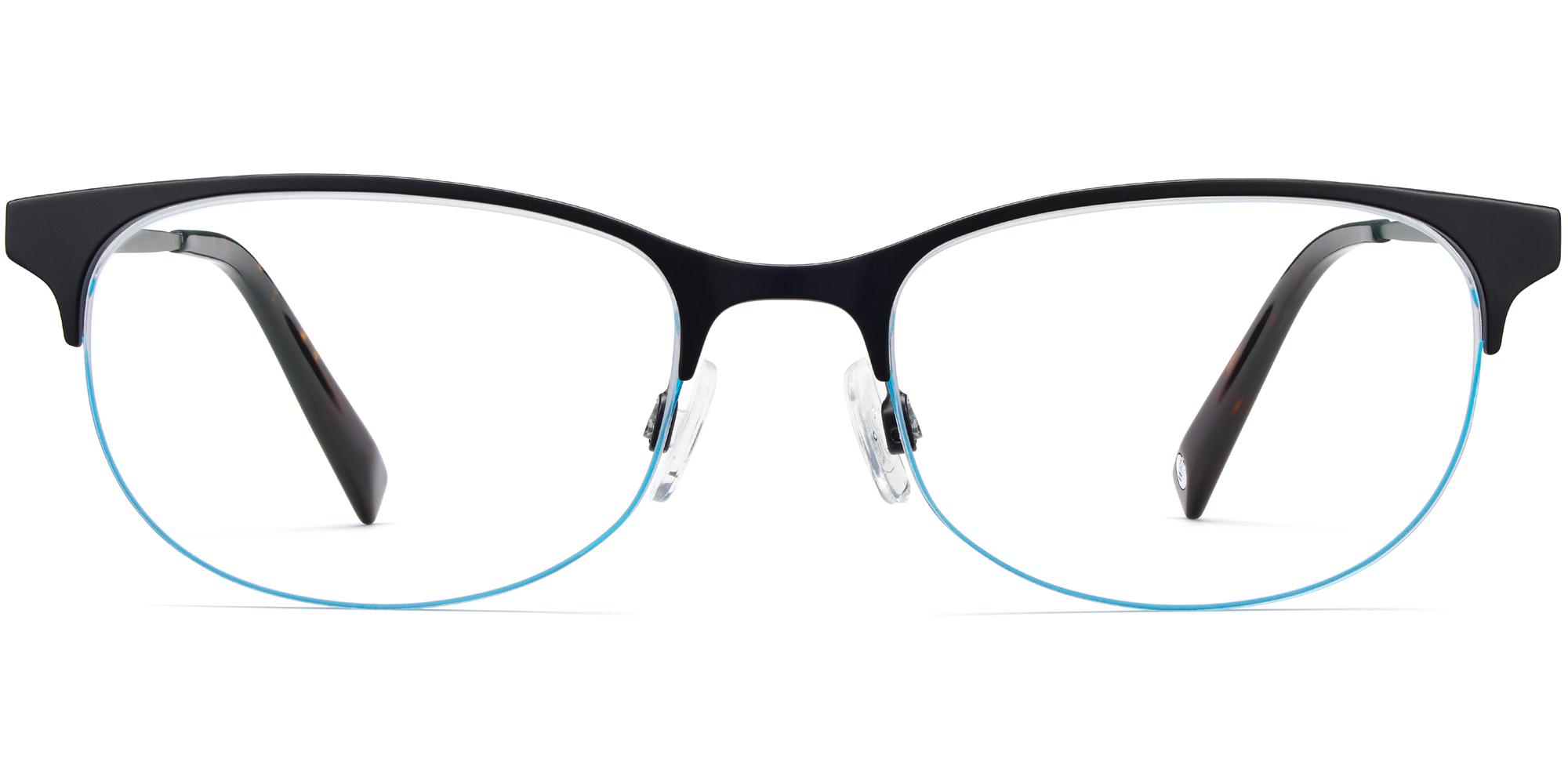 Warby Parker doesn't make rimless frames, but the Clare is pretty close with it's semi-rimless look. The sloping frame bridges across the top of both rounded rectangular lenses, with tortoise arm tips to finish. If you usually have trouble with plastic frames that slide down your nose, this one might be right up your alley with adjustable nosepads for a secure fit. Try it out free with their Home Try-On kit.
Men February 2020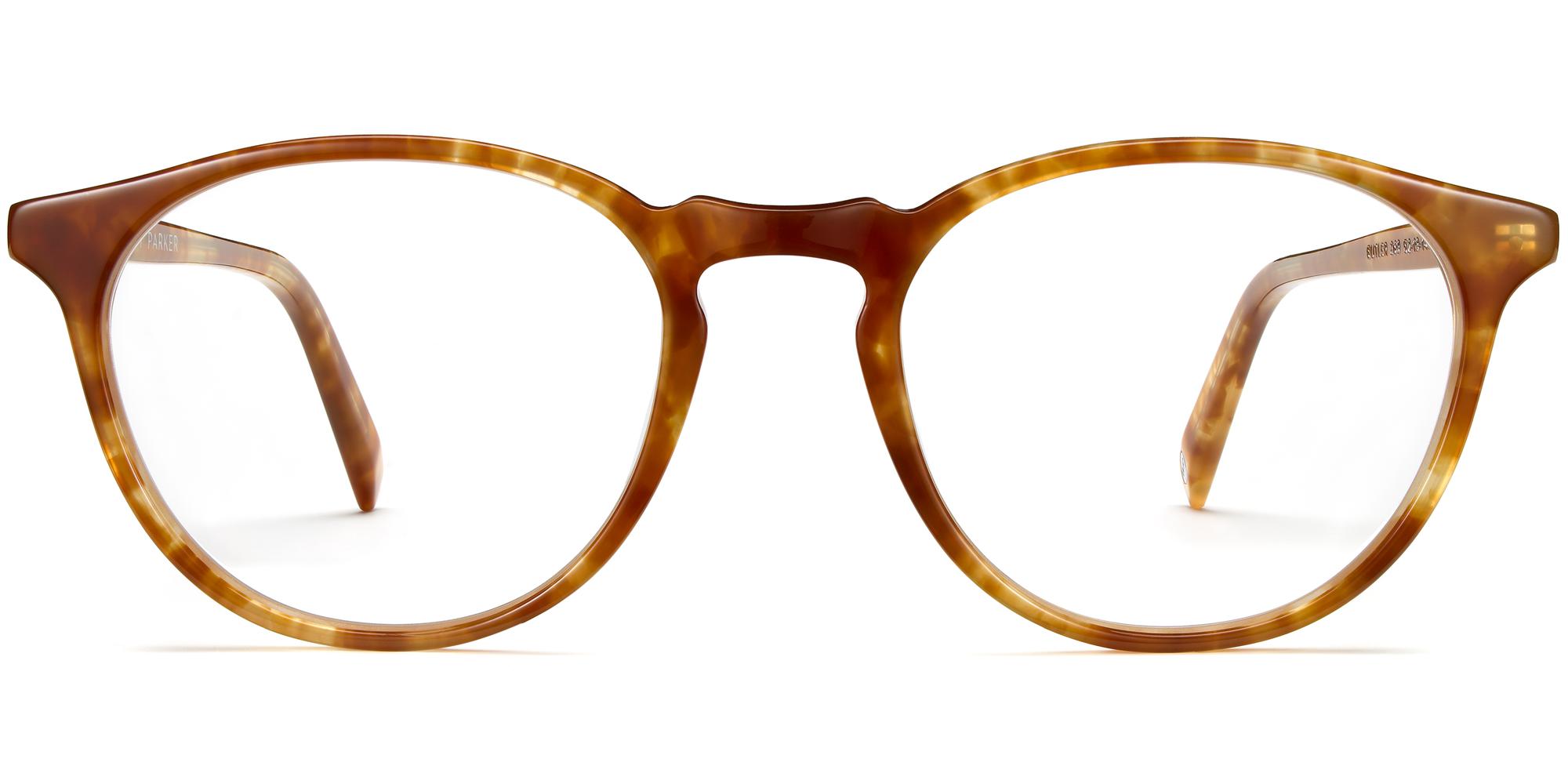 The Butler frame is so good, we picked it for a second time! (Last February we chose it in Shoreline Fade.)  We're loving it this time around for the perfectly mellow butterscotch tortoise that brightens any face up. It's hard to beat for a classic round lens frame. It comes in both narrow and medium widths.
Women February 2020
Speaking of colorful tortoise frames, the Nelle is another good choice if you want something a little different than the standard brown and golden hues. It's got rounded rectangular lenses with easy sloping curves. You can get them with Rx lenses, a cleaning cloth, and a case for only $95.
Men January 2020
If this isn't the year for 20/20 vision, I don't know what is. So get the new decade off to the right start – get an eye exam, and maybe a new pair of prescription specs like this high quality silver titanium pair. It's got rounded rectangular lenses, adjustable nosepads, and is so lightweight you'll barely know you're wearing glasses.
Women January 2020
The Amelia is an easy cat eye frame with gentle sloping curves all around. The pretty color is like my favorite New Year's Eve drink – rose champagne! This one is just as nice – except without the bubbles. Even with prescription lenses, you're spending less than $100 all-in, which is still less than a couple good bottles. 🙂