(This page contains affiliate links. OGR may receive compensation if you click a link and make a purchase.)
2.8
Community Score
(13 votes)
Pros
+ Most Popular Brands
+ 60-Day Return Period
+ Accepts Insurance
Cons
- More Expensive Than Most
- Pricey Lens Options
- Poor Customer Service
Summary
Glasses.com is a solid choice for those with vision insurance that want to buy designer frames. They carry lots of popular brands, including Ray-Ban and Oakley, plus offer a generous 60-day return policy. Customer service can be lacking if you need assistance, however.

About Glasses.com
Glasses.com is one of the biggest and most popular providers of designer eyewear and prescription lenses you can find online.
Starting out in 2011 with a shop in Salt Lake City, the company set off on a mission to provide shoppers worldwide with access to great brands, styles and quality lenses for amazing prices.
The people behind Glasses.com are passionate about style and believe that eyewear is about much more than just correcting vision – they know that the right glasses are part of your lifestyle and identity.
The online store has a huge selection of brands and styles, from Ray-Ban to Michael Kors, Oakley to Versace and many more.
Our Glasses.com review found that they make their own lenses in a state-of-the-art lab, using exactly the same materials a doctor would use.
By cutting out the middleman and manufacturing all of their own lenses, they are able to create prescription lenses affordably, precisely and quickly.
They offer a range of lenses for every prescription and budget need. Their Value CR-39® lenses are the most popular option for standard glasses-wearers, while their Impact Resistant lenses are great for children and sports.
Glasses.com also offers High-Prescription lenses and Multifocal and Progressive lenses.
The company has also teamed up with LensCrafters to provide all Glasses.com customers with free frame adjustments. Customers can drop into one of the almost 1000 LensCrafters stores nationwide.
Simply take your Glasses.com receipt with you and a member of LensCrafters will make any adjustments or fittings you might need – absolutely free!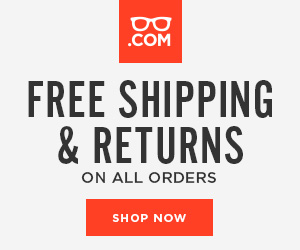 Easy-To-Use
Glasses.com is designed with customers' entire internet shopping experience in mind. The website is clear and easy to use, with a good amount of information to help both first-time and returning shoppers get the perfect pair of frames and the correct prescription lenses.
Every style in the online catalog is displayed clearly, with helpful information about the brand and details on the trend.
Accepts Vision Insurance
One of the biggest benefits of shopping for eyewear on Glasses.com is the fact that they accept a wide variety of vision insurance plans.
They're in-network for plans from EyeMed, Davis Vision, Humana, and DeltaVision, to name a few.
They make it easy to pay with your vision benefits directly so it's a great way to use your annual glasses allowance if you have one.
Buy One, Give One
The company is deeply committed to ending the global vision crisis, working with closely with the non-profit organization OneSight to help staff charitable clinics and make permanent access to vision care a reality by building lasting infrastructures and training local residents.
The online store also has a Buy One, Give One promise – for every purchase made on Glasses.com, they will provide a pair of glasses to a person in need. The company believes that donating glasses empowers people who are vision-impaired to make better lives for themselves and their families.
100% Satisfaction…or Your Money Back
Glasses.com's entire purpose is to create the best possible customer experience. They want to make buying glasses, lenses and sunglasses online as fun, easy and convenient as possible.
With this in mind, they offer shoppers a 60-day full refund policy, as well as a 1-year warranty against manufacturing defects on all frames and a 50% discount on frames should your glasses or sunglasses become damaged within the first year.
Our Glasses.com Review
In order to provide the most honest and accurate review, we personally tried and tested two different products – one pair of prescription glasses for distance and one pair of sunglasses.
We also dug even further into the reviews and testimonials online to find out more about the company and how others feel about their purchases.
Glasses.com Lens Quality 9/10
Glasses.com uses only the highest quality materials to produce their lenses, which they manufacture themselves for affordability and precision.
Their standard high-clarity CR-39 Plus lenses include no-glare, scratch-resistant coatings with 100% UV protection and are the most popular and suitable for everyday glasses wearers.
For more active wearers, and particularly children, Glasses.com recommends upgrading to polycarbonate lenses for high-impact resistance. They also offer a CleanShield™ Elite No Glare as a lens upgrade, which gives less smudging, easier cleaning and a prolonged life of your lenses.
My Ralph Lauren frames, which I had chosen for my prescription glasses, were suitable for the standard high-clarity CR-39 Plus lenses and I was impressed with the accuracy of my prescription was when they arrived.
Over the initial 15-day trial-period, they were resistant to scratches and I didn't have any glare issues.
Previous customers have also been happy with the quality of lenses provided by Glasses.com – check out this Facebook review:
Glasses.com Frame Quality 10/10
Glasses.com offers customers some of the most famous names in fashion, with authenticity and quality 100% guaranteed. Shoppers can narrow down their search for the perfect frames by choosing which material they would prefer – either plastic or metal.
Titanium and Steel are both commonly used to make metal glasses frames. The key difference that most people notice is that titanium is much lighter.
Plastic frames are the most common in the eyewear industry, particularly acetate frames. Acetate frames are known for durability, flexibility and wearer comfort. It also has the widest range for transparency, rich colors, and finishes.
Both the pair of glasses and pair of sunglasses I ordered from Glasses.com for my review are made from acetate. Each pair felt very lightweight and fit my face comfortably, without seeming fragile or easily breakable.
I'm not the only one who was impressed by the quality of frames provided by Glasses.com:
Glasses.com Style & Choice: 10/10
Glasses.com offers a huge selection of frames, from some of the best designer names in fashion, with options for men, women and children.
With styles for every look and fashion taste – from classic to geek to cat eye – in a range of materials and colors, there is a perfect pair of frames for every shopper.
After browsing through the online catalog, I narrowed my search down to three different frames for prescription lenses and two pairs of sunglasses.
After using the Virtual Try-On feature (which doesn't seem to exist anymore), I eventually chose a pair of stylish frames by Ralph Lauren and classic aviator sunglasses from Ray Ban.
I was really impressed with the designer names and options available to choose from for our Glasses.com review.
Glasses.com Online Experience & Customer Service: 4/10
Glasses.com is a straightforward site where you can quickly and easily find the brand and type of frame you're looking for. The catalog is simple to browse through and the styles and brands are all clearly displayed.
Though I personally had a great experience purchasing glasses from them, it appears the company's customer service has really gone downhill in recent years.
From being difficult to contact (email or chat only) to issues placing an order or being charged for something that takes forever to arrive, there are a myriad of issues that are concerning and very much "buyer beware".
If you don't have any issues with your order, Glasses.com can be a good place to use vision benefits, but the cost might outweigh the convenience if you do run into problems that require additional assistance.
Glasses.com Cost & Value for Money: 7/10
Our Glasses.com review found they certainly aren't the cheapest online eyewear store out there, but it does offer nice discounts on big designer names. The prices range from around $70 – $400 for frames, with free lenses included on all frames over $160.
My pair of glasses and sunglasses came to a total of $334, with prescription lenses included in the price of the Ralph Lauren glasses for distance. It's a good price for a designer frame, but the truth is, there's still a good amount of markup even (or especially) when using insurance.
Glasses.com Review Summary
Glasses.com has a great selection of designer frames and sunglasses, and is an in-network retailer for many vision plans.
You'll have your choice of frames that you can easily pay for using your vision benefits without needing to go through a reimbursement process typical of out-of-network opticals.
Having said that, it seems that recently their customer service (or lack thereof) has become a big issue. As evidenced by many user reviews, lack of response and incompetence in handling customer service issues plagues the company.
If you're looking for better service and designer brands, we'd recommend heading on over to GlassesUSA.com instead.