(This page contains affiliate links. OGR may receive compensation if you click a link and make a purchase.)
Gone are the days when glasses were something to be embarrassed by. Now, four eyes are better than two: glasses have become the sleekest accessory for both men and women.
When choosing a new pair of glasses or sunglasses, the choices of frames and colors and shapes can be overwhelming, but the hottest look of the moment is round glasses. We've compiled a list of the internet's best round glasses for men and women, including sunglasses in case this trend is too much of a long-term glasses commitment. Make sure to add one or two of these chic pairs to see for yourself just how fun and flattering these frames can be.
Best Women's Round Sunglasses
Best Men's Round Glasses
Best Men's Round Sunglasses
Best Women's Round Glasses
Blair in Rose Gold
Thin and shapely, these round specs add a touch of flair with thicker rims at the top and a tortoiseshell pattern near the temples. These prescription or nonprescription glasses are perfect for a woman looking for a trendy update on a classic look. The elegant color looks great with most complexions, and the sleek, thin frame elevates any look.

Stockton in Sea Glass Grey
These gray crystal frames are sophisticated and have a great twist of detail in the keyhole bridge. The thick frames with a slightly narrow fit are both sturdy and whimsical. For a bolder look, these Stockton eyeglasses also come in a darker whisky tortoise color.
Ray-Ban 3447V Gunmetal
More of a silver fox? (With your specs, at least.) This perfectly round pair by Ray-Ban is made of lightweight titanium, with intricate patterning along the edges and bridge. The thin metal frame does not obscure your features at all and is very durable. In addition to gunmetal, it also comes in gold or black.
Best Women's Round Sunglasses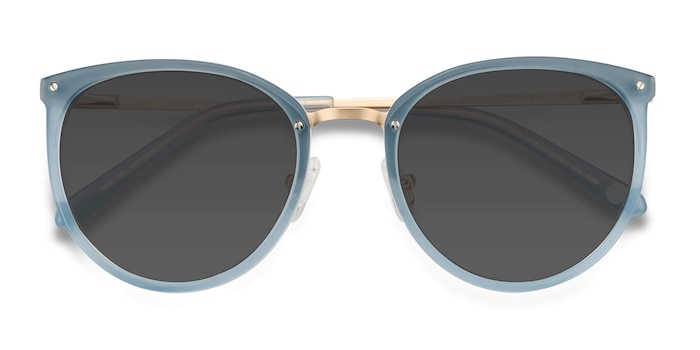 Crush in Frosted Blue
Prepare to channel your inner — or outer — social media star: The frosted, semi-translucent blue rims of this frame are paired with metal bridge and arms plus gray, polarized lenses. You can even customize the lenses to have a gradient (darker to lighter shading), or add a mirror coating to the outside for not too much more.

Whitaker in Root Beer with Polished Gold
Toss on a straw Panama hat and grab your favorite beach read: these honey and amber sunglasses are simple and summery, and just plain fun to wear. The green lenses are polarized to reduce glare and add an old-world flavor to the entire frame. Love the style but not the color? It's also available in light gray crystal too.
Ottoto Malul Black w/Silver
At first glance, this pair may look like any other browline frame, but look a little closer and you'll see the cutout rim design on the bottom half of the lenses and around the temple arms. For classic style with a twist, this one is a real head-turner.
Best Men's Round Glasses

Watts in Greystone
A sophisticated color on a sleek and traditional frame, Watts round glasses are so charming. The classic frame and temple arms create a perfect fit for medium sized faces, and the slate gray encompasses a beautiful wood grain for depth and texture. Watts is also available in a warm Sugar Maple or cool Pacific Crystal, as well as a narrow fit too. Single-vision Rx lenses are included at no additional cost.
Whitman Acetate in Safari
Classically bookish, the Whitman from Proof Eyewear will make anyone look intelligent and trendy. An eco-friendly company, the frame is made from a cotton-based acetate and repels water and sweat. The frame comes Rx-ready, which means you'll need to have your optician fill your prescription if you need corrective lenses.
Tom Ford FT5534-B
Want something a little funky and old-school trendy? This pair is surely it – the straight edge browline gives you that vintage '80s vibe with a modern twist. The bold black color only makes it stand out even more, and is finished off with the long gold "T" around the temples. Includes single-vision Rx lenses too!
Best Men's Round Sunglasses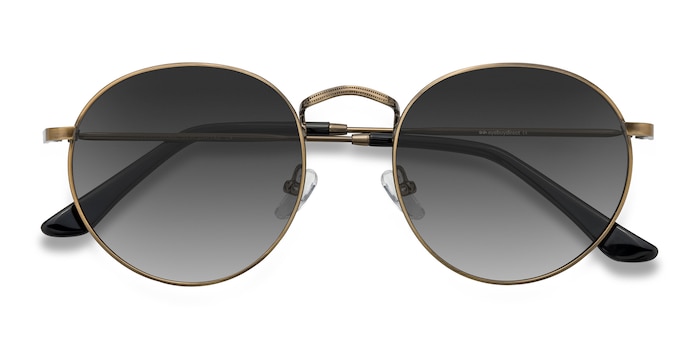 Disclosure in Brown
Functional yet stylish, this pair of sunnies from EyeBuyDirect hits the mark with it's perfectly round lens metal wire frame. It's lightweight and easy to wear all day, with adjustable nosepads and impressive engraved detailing. Add your choice of lens coatings or Rx for not too much more.
Ray Ban RB4336CH Chromance
If you're a die-hard Ray Ban fan, you'll love this dark tortoise pair with violet polarized lenses. Adjustable nosepads, perfectly round lenses, and genuine Ray Ban quality make this pair a keeper for all seasons.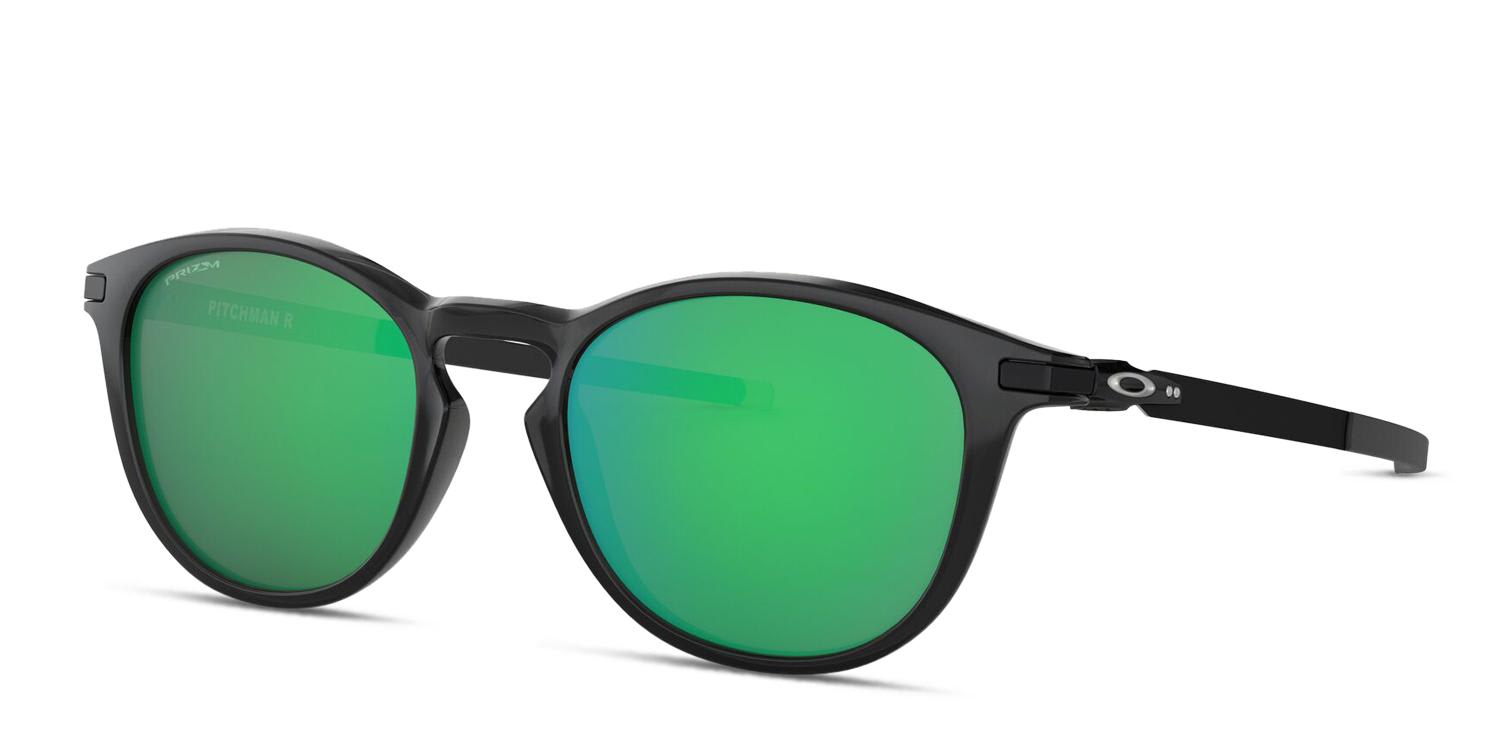 Oakley OO9439 Pitchman Black/Green
For the ultimate in sport performance, you can't go wrong with Oakleys. The Pitchman has their signature wraparound temples with straight arms for a snug fit without added pressure, and the green lenses provide impressive sharpness and clarity of vision. At this price, it might be gone before long.
There we have it, our short list of the best rounded frames can serve up. With so many unique shapes and colorings, stock up on two or three pairs to rotate through and spice up your outfits. While round eyeglasses look especially flattering on people with square or oval face shapes, these frames are totally trending; whether for everyday wear or just for sunny afternoons, sporting a pair of these rounded eyeglasses is sure to elevate any look.