(This page contains affiliate links. OGR may receive compensation if you click a link and make a purchase.)
Frameless glasses. You may think they're not for everyone. I remember a time when I used to think they were hideous. Why weren't they helping me look great? Weren't glasses supposed to accessorize? That was before I grew into my features, gave my cheekbones a little time to pop and my jaw to lose a little more of its baby fat.
See, frames help to accentuate your features – different frame shapes look better on specific face shapes. Round frames for square faces, cat eye for square, etc. But this isn't about finding the right glasses for your face shape. This is about finding a one-size-fits-all, in a way.
The thing about framed glasses is that it involves harsh lines on your face. When buying frames online, whether they be sunglasses or normal prescription glasses, it is pretty easy to mess up and buy something that doesn't look very complimentary at all.
With frameless, or rimless, glasses, the design epitomizes minimalism – coupled with practicality. But more on their practical benefits later. Frameless glasses involve no hard lines, and they let all your features be in the spotlight, not your glasses.
Here are our recommendations, based on budget:
Best Frameless Glasses Under $100
Glasses Shop Terre
A classic rectangle-lens, the Terre is light yet sturdy. It's impressively economical for what you get, and sits comfortably across your nose bridge and temples. The pair is available in gold (pictured), silver, gunmetal, and blue.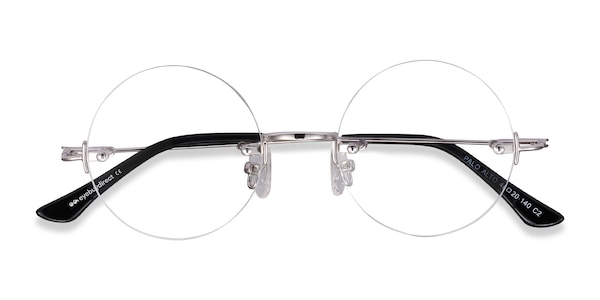 EyeBuyDirect Palo Alto Silver Rimless
This perfectly round lens frame is highly rated and very popular for good reason – it looks good on anyone from young to old, male to female, and every shade of skin tone. If silver isn't your thing, the temple arms also come in gold, black, and bronze, too.
Revel Dwayne
You'll be sure to revel in the titanium Revel Dwayne eyeglasses. Its classic rectangle lenses pair brilliantly with light yet sturdy temple arms and single bridge. Customize the lenses with many options including photochromic transitions for all-day wear whether you're inside or outside. Clean lines make for a sophisticated, barely-there accessory.
Perspective Meteor
You never know where you might find a great pair of glasses, so when we happened upon this rimless D-frame gem, we knew we had to include it in the list. The exquisite detailing in the shiny gold arms, subtle bridge, and the affordable price tag make the Perspective Meteor one to choose. It's even progressive-lens eligible too.
Zenni Titanium Rimless Glasses 372811
Titanium glasses are the best – not only are they lightweight, they're strong and durable too. Zenni Optical's titanium rimless glasses are great not just for the price, but for the custom options available. There are multiple lens shapes to choose from, as well as tints if you want a bit of color on your lenses.
Yoji Unico
Not your standard rimless frame, the Yoji Unico is a Japanese-inspired design with octagonal lenses. It looks delicate but is quite sturdy in its construction. It's lightweight and comes in three sizes (S, M, L) to fit nearly any face from narrow to wide.
Art Craft Art-Bilt Rimway with Cable Temples
For a secure fit, a pair of glasses with cable temples that completely wrap behind your ears are de rigeur. This stylish pair has a sophisticated nostalgic look with gold arms and rounded geometric lenses. It's progressive-eligible too!
Best Frameless Glasses Under $200
Versace VE1248B 1052
Just because you want a rimless pair of glasses doesn't mean you don't want any bling bling. Versace combines the minimalist nature of bare lenses with some sparkle and shine. The ornate hinges are coupled with a dazzling row of crystals that wrap around your temples.
Boss by Hugo Boss 0710
So many designers…so little time. Here's a sub-$200 pair with rectangular lenses, slim all-black arms and bridge. Each lens measures 55mm across for full line of vision coverage, and comes with UV-protection coating.
Best of the Rest
Ray-Ban RX8755
The quintessential Ray-Ban is very sleek and made of ultra lightweight and strong titanium. It's got a delicate bridge detail, adjustable nose pads and comfortably curved arms that don't put pressure behind your ears.
Silhouette Dynamics Colorwave BG
If you love aviators, then this frame deserves consideration. While most aviators are already thin metal frames, this one takes it up a notch with just the bare lenses connected to the arms and nose bridge in a classic style.
Oakley Gauge 3.1
The leader in sunglasses, Oakley doesn't disappoint with their rimless Gauge 3.1 optical glasses. The rectangular lenses have adjustable nosepads and sit comfortably on your face with their signature straight temple arms. Style yourself cool with this pair all year-round.
Montblanc MB0112O
If you're feeling pretty chi-chi, perhaps the gold Montblanc is what you need. Made of the finest materials in Italy, it's exquisite craftsmanship is immediately seen and felt from elegant tips to the fine detailing in the arms, bridge, and nosepads. It's also available in a silver color.
Best Frameless Sunglasses
Aside from regular glasses, there are also frameless sunglasses, which for some reason I didn't think existed. Rimless sunglasses tend to be less bold, what with the lack of frames, but I managed to find some that are fun (and occasionally edgy).

Privé Revaux Bohemian
If you like high style but not high prices, Privé Revaux is the place to go for fashionable sunglasses. This rimless frame features round gradient lenses with drilled bridge and temple fittings. Though it has a light tint, the lenses are polarized to reduce glare and are 100% UV-blocking.
65% Off Select Styles at Privé Revaux With Code: 65OFF
PRIDE MODS305
This funky octagonal pair can come with prescription sunglass lenses in five different colors. It takes a bold personality to wear these frames with "PRIDE". You'll stand out in a crowd and of course, be unforgettable.

Versace VE2054
For the ultimate in style and comfort, this wraparound Versace stunner fits the bill perfectly. Sporty yet fashion-forward, these frames come with adjustable nosepads and of course that famous brand name on the temples.
Ray-Ban RB4255 Chromance
No sunglasses list would be complete without a pair of Ray-Bans, and this rectangular lens is great on nearly all faces. The lenses curve around to provide your peepers with all-around protection from the sun's UV rays, and it's light and comfortable to wear.
Prada PR68TS Polarized 7OE5Z1
If the devil wears Prada…why not you? All kidding aside, this pair of polarized sunnies from Prada is rather devilish indeed. It has a unique angular cat eye shape in a gray lens. The gold arms and bridge have elegant lines for a classy and dare I say, somewhat haughty look. Someone's gotta pull that off, right?
Why Should You Buy Frameless Glasses?
Frameless eyewear can look great, but that is definitely not the only reason to get them. A common thread amongst all the above choices is the lightweight and durable nature of rimless glasses. Because the lenses are connected directly to the side arms, they are almost always incredibly light.
As such, they're comfortable to wear and allow more of your natural features to shine. Additionally, frameless glasses are usually cheaper in comparison to framed pairs since they use less material.
Regarding any disadvantages of rimless glasses – a common misconception is that they are more susceptible to breakage, which is not always true. Rimless glasses need to be taken care of, but not necessarily more so than a full frame pair. Rimless glasses can even be more flexible and some are made to be bendable.
Many are made from titanium, a lightweight, anti-corrosive, and strong material. These tend to be a bit pricier, but are well worth the additional cost for the extra durability.