(This page contains affiliate links. OGR may receive compensation if you click a link and make a purchase.)
0
Community Score
(0 votes)
Pros
+ World renowned designer frames
+ Many brands have free prescription lenses
Cons
- No free trial program
- More expensive than in-house brands
Summary
Our Gaffos review found that if you are looking for the best prices for the biggest designers, Gaffos is an excellent place to shop for online eyewear. From Prada and Persol, to Versace and Valentino, all your designer dreams can be found here.
About Gaffos
With over 30-years of experience in eyewear purchasing and distribution, Gaffos offers customers the top designer names at amazing discounted prices.
They are one of the largest optical frame and sunglasses retailers in America and were ranked in Inc. 500 as one of the top 20 fastest growing e-commerce sites in the United States.
The company believe that great-looking eyewear should easy to find, affordable and fun – with a focus on creating the best possible customer experience.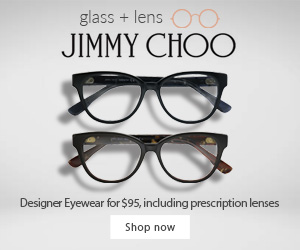 They have a dedicated "Customer Happiness Team", whose sole purpose it is to make sure that every shopper is 100% happy with both their purchase and their entire online experience.
With hundreds of designer brands to browse through, including high-fashion names such as Prada, Burberry, Tom Ford, Ray Ban and many more, Gaffos.com has one of the biggest selections of designer eyewear on the internet.
Whether you are looking for eyewear for distance, reading, progressive or sunglasses, Gaffos has a pair of glasses for every stylish, fashion-savvy man and woman.
The Gaffos Authenticity Guarantee
With Gaffos, you never have to worry about the authenticity of the brands that are being sold – every purchase is guaranteed to be 100% authentic.
Gaffos is one of a select few, authorized Luxottica retailers – the leader in premium, luxury and sports eyewear manufacturing – whose brands include Ray Ban, Prada, D&G and Burberry.
Every product on the online store is purchased directly from the manufacturer and Gaffos is one of the only online stores authorized to sell designer eyewear.
Each product is inspected for imperfections and the company promise to exchange or fully refund shoppers if they are not absolutely satisfied with their purchase.
Stylish Online Shopping
Gaffos's online eyewear store looks more like the website for a glossy fashion magazine than just another internet retail store. The beautifully designed site features images of the world's most recognisable brands and an easy-to-navigate catalog.
The company's "Eye Candy" blog keeps readers and shoppers updated on all the latest eyewear, fashion and celebrity trends, as well as providing useful information on how to find the perfect pair of glasses or sunglasses for your look.
The fun "Meet the Team" section of the website also makes the online experience more personal, allowing customers to find out exactly who is behind the company and responsible for each different aspect of the purchase experience.
Virtual Try-On
What would a good online eyewear retailer be without a virtual try-on feature? Gaffos' excellent virtual try-on is a great way to see how you'll look in a pair of glasses or sunglasses.
It works very seamlessly right from the site – no need to download an app or take a selfie and upload a pic of yourself. Simply use your webcam on your device – laptop, tablet, or smartphone – and you can quickly see how you'll look wearing any frame.
The only downside is not all frames have the capability for virtual try-on, though the vast majority of the most popular designer frames all seem to have the "Try On" button.
Price Match
As well as offering amazing daily discounts on designer brands, Gaffos also offer customers a "Price Match" promise. The company is so dedicated to providing the best price for top brand eyewear that if a customer finds the same product for a lower price online, Gaffos will match the price.
Customer "Happiness" Guarantee
Gaffos philosophy is to provide the greatest experience customers can possibly have purchasing online – a goal they state is "lofty, but very real". They believe that by combining exceptional customer service, amazing choice and incredibly fast order shipping, they can achieve this goal.
If a customer is unhappy with their product for any reason, they can return it for free and receive a full refund.
They encourage their shoppers to buy glasses, try them on and, if they don't like them, to send them back without any questions asked.
They offer a 30-day refund policy, and 45 days for an exchange, starting from the day you receive your order.
Unlike many online eyewear retailers, Gaffos keeps stock of every item they list, which means that their dedication to shipping orders within 24-hours of being placed is almost always guaranteed.
Each member of the Gaffos "Customer Happiness Team" is trained in their customer culture and comprehensively trained to provide broad knowledge across all styles, features & disciplines.
Our Gaffos Review
I personally tried and tested three different eyewear products from Gaffos.com – one pair of reading glasses, one pair of prescription (distance) glasses and one pair of sunglasses.
I also combed the internet for reviews and testimonials from previous customers to find out what makes Gaffos such a successful online eyewear retailer. 
Gaffos Frame Quality: 10/10
At Gaffos, you know that your frames are going to be of the highest quality because of their 100% authenticate guarantee.
Every one of their products comes straight from the designer manufacturer, and if you are not happy with your purchase for whatever reason, you can return your order, for free, and receive a full refund.
Just look how happy these previous customers were with their 100% authentic eyewear purchases!
The website gives descriptions on every designer brand they sell, meaning that, even if you don't know your Gucci from your Givenchy, you'll understand the quality that is synonymous with each fashion house name.
The three brands I had opted for – Victoria Beckham, Burberry and Prada – are all know for their exquisite design, quality and craftsmanship.
It's easy to understand why when you see one of their products up close. Each of the three frames I ordered were made from a high quality plastic acetate, a material which is known for its durability, flexibility and wearer comfort.
Acetate also allows for the widest range of transparency, colors, and finish options, as well as being hypoallergenic.
Gaffos Lens Quality: 8.5/10
Choosing your dream designer frames is one thing, but making sure you get the correct lenses for your prescription is another.
Luckily, Gaffos.com have years of experience in providing customers with prescriptive eyewear and make the entire process of getting the correct lenses unbelievably easy.
If you know your prescription, you can either enter it online, email it to a member of the Customer Happiness team – who will take care of it for you – or simply upload an image of the prescription slip.
Having ordered sunglasses but never prescription glasses online before, I was skeptical as to whether or not the quality would be as good as the lenses in a retail, optometry store. I was so happy to discover that both the reading lenses and lenses for distance were absolutely perfect!
Gaffos Style & Choice: 10/10
The Gaffos store has the best selection of designer eyewear brands that I've come across online so far – with every big name from Fendi to Lanvin, Valentino to Gucci and Mui Mui to Prada – the "Designers" selection is a fashionista's dream to browse.
There are hundreds of styles for both men and women to choose from, and a particularly impressive selection of designer sunglasses – including the pair I eventually chose from Victoria Beckham's most recent range.
With every shape and style you could possibly want, it's easy to narrow down your search using the category filters such as color, material and brand.
After lots of browsing, I ended up selecting a pair of rectangular reading glasses from Burberry and a very stylish pair of tortoise shell Prada glasses for my distance prescription. Once I'd chosen my favorite designer frames, it was easy to select "Add Prescription" and place my order.
My three new pairs arrived within five days and I couldn't have been happier with the way they looked!
Gaffos Review Customer Service & Online Experience: 9.5/10
Everything on Gaffos is created to make the online eyewear shopping experience as beautiful and as easy to use as possible. The stylish, modern catalog showcases the amazing selection of designer brands in a clear and simple way.
The website really is so easy to use and I particularly loved the blog – Eye Candy – with all the posts about celebrity eyewear trends and the latest fashion news.
From click-to-ship, the entire online experience at Gaffos review was a pleasure. I knew my prescription and entered it easily into the "Add Prescription" option before completing my order.
The FAQ section was a big help for getting all the correct information about shipping and returns.
I personally didn't have to contact Gaffos's "Customer Happiness Team" but by the sound of the reviews I found below, the customers that did were certainly very happy!
Gaffos Cost & Value for Money: 9/10
Gaffos isn't the cheapest online eyewear retailer, but it is the cheapest online retailer offering 100% authentic designer glasses and sunglasses.
You can find amazing discounts of some of the most famous brands in the world, and if you see the same product somewhere else online for less, Gaffos.com will price match the item for you.
Our Gaffos review found prices ranging from $15 all the way to $500, there is a look to suit every budget. And the best thing is that you know the quality and craftsmanship are going to be of the highest standard.
I really can't say just how great value for money the products on Gaffos reviewed are – I've never found such a great selection of the best designer names for such low prices!
I'm not the only one who has been impressed with the value for money – just look at these reviews I found online!
Gaffos Review Summary
After ordering three different pairs of glasses from Gaffos to review and trying out both their service and products for myself, I can easily see why there are so many happy customers leaving amazing reviews online.
The online store is designed beautiful and is very easy to use, with one of the best selections of designer eyewear I've come across on the internet. It has all of the biggest fashion names in the world and the discounts offered compared to retail stores are unbelievable.
I found all the information I needed on the Gaffos website to add my prescription and complete my order easily and I was really impressed with just how quickly my new glasses turned up after my order was placed.
If you are looking for the best prices for the biggest designers, Gaffos should be your first online eyewear shopping destination.