There's no shortage of designer sunglasses these days – and while that's arguably a good thing, it can leave you scratching your head when it comes to picking a pair of cool new shades. If you're looking for quality and style, should you go with Persol or Ray-Ban?
(This page contains affiliate links. OGR may receive compensation if you click a link and make a purchase.)
Persol vs. Ray-Ban: Which is Better?
Short answer: For sophisticated style, premium materials and quality craftsmanship, Persol is the ticket. One of the few remaining companies that still makes each pair by hand, it has a timeless, European designer appeal.
Ray-Ban is quintessentially all-American and more accessible, with loads of styles that adorn both famous faces and average citizens alike.
Persol: Italian Luxury
It is always interesting to read about the humble origins of brands like Persol that eventually become international giants.
Persol was inspired by solving a practical need for pilots. The founder, optician Giuseppe Ratti, served experienced pilots during World War I who often visited his shop.
Of course, they faced common issues for pilots such as light glare and sun-induced haze. Ratti made his first pair of sunglasses with the help of a German chemist named "the Protector".
They featured smoked crystal lenses that reduced the amount of harmful radiation exposure to the eyes.
Protectors quickly grew in popularity, drawing more and more attention until Ratti started a company. He named it Persol, short for "per il sole," which means "for the Sun".
Today, Persol is a famous designer eyewear brand renowned for their style and craftsmanship. Acquired by Luxottica in 1995, they still make their glasses in Italy with the same level of quality and precision one expects from an Italian eyewear brand.
Ray-Ban: All American Style
Pretend for a moment that you're a pilot in the 1930s and struggle to see on bright days in the cockpit. What if you had a pair of glasses to ban those harmful rays? A Ray-Ban, if you will.
Company name aside, Ray-Ban has similar origins to Persol. The first incarnation of Ray-Ban sunglasses (the Aviator) was created specifically to protect pilots' vision.
The protective shades made its mark on mainstream American culture after images of General MacArthur wore them in uniform during WWII.
Like Persol, Luxottica eventually scooped them up into their conglomerate. While many feel the quality has gone down since then, Ray-Ban is still a legendary brand that continues to innovate and produce new designs and technologies year after year.
Great Deals on Ray-Ban Sunglasses
Persol vs. Ray-Ban: Lenses
Persol
All Persol sunglasses have glass (or crystal) lenses made of pure silica, which offer the best optical clarity and scratch resistance.
These qualities often make glass more desirable than plastic – "glass is class" – but comes at a higher cost.
The tradeoff is that glass is heavier and can shatter more easily than plastic or polycarbonate. Though technological improvements have reduced the width of the lens from 2.2mm to 1.8mm, making the additional weight almost negligible.
Persol offers a few different lens colors including the standard green/gray, brown, and blue. They also have gradient lenses with a darker tint at the top that gradually reduces towards the bottom.
With precision manufacturing and premium materials, Persol's high-quality lenses provide superb vision, full UV protection, and excellent durability with proper care.
Persol Prescription Sunglasses
Ray-Ban
Nowadays, Ray-Ban primarily uses polycarbonate in their lenses, though you're supposedly still able to get the original G15 and B15 lenses in crystal too.
Polycarbonate is a plastic material that's lightweight, impact-resistant, and naturally protects against UV-light.
The company has several technologies for their sunglasses such as Chromance, their patented vision-enhancing lens technology.
Not only does Chromance spare your eyes from glare and bright reflective surfaces with a polarized filter, it includes pigments that give you high-def visuals by increasing contrast, color, and clarity.
Where Ray-Ban shines compared to Persol is in the variety of colors and flash/mirror options you can choose from.
While their solid tints mostly consist of the standard green, brown, and blue/gray, their gradient and flash or mirrored options include even more colors of the rainbow. Additional colors include pink, silver, yellow, copper, and orange.
The nice thing about flash and mirrored lenses are that they reflect light away from your eyes even more so than polarized lenses. You can also "hide" behind them as they almost completely obscure your eyes from others.
Persol vs. Ray-Ban: Frames
Persol frames are some of the best in the world. In particular, their Meflecto technology is what makes Persol glasses fit and sit on your face comfortably.
Meflecto allows the arms to flex and mold themselves to your face shape, removing pressure on the sides of your head. They do this by inserting small nylon or metal cylinders along the arm stem that gives and bends.
Persol also uses high-quality acetates and dyes to produce their handmade frames. They handcut the acetate for a smooth, uninterrupted piece, unlike the injection-mold process that leaves a visible seam.
One of the best features of their 714 and Steve McQueen Series are the foldable bridge and arms:
Meanwhile, Ray-Ban makes decent frames, but they don't really compare in terms of quality. They make their frames out of acetate, carbon fiber, nylon, and metal.
They do have various sizes to fit most faces from narrow to large and everything in between. Also, there are full-rimmed, semi-rimmed, and rimless variants.
Overall, Persol glasses feel like no expense was spared. They are hand-made Italian fashion accessories. Ray-Ban frames feel more mass-produced, and are sometimes made in China.
Try Persol Sunglasses On Virtually
Persol vs. Ray-Ban: Style
All Persol's have Ratti's metal arrow icon wrapping the temple hinge the way Tom Ford glasses have a signature "T" on the temples.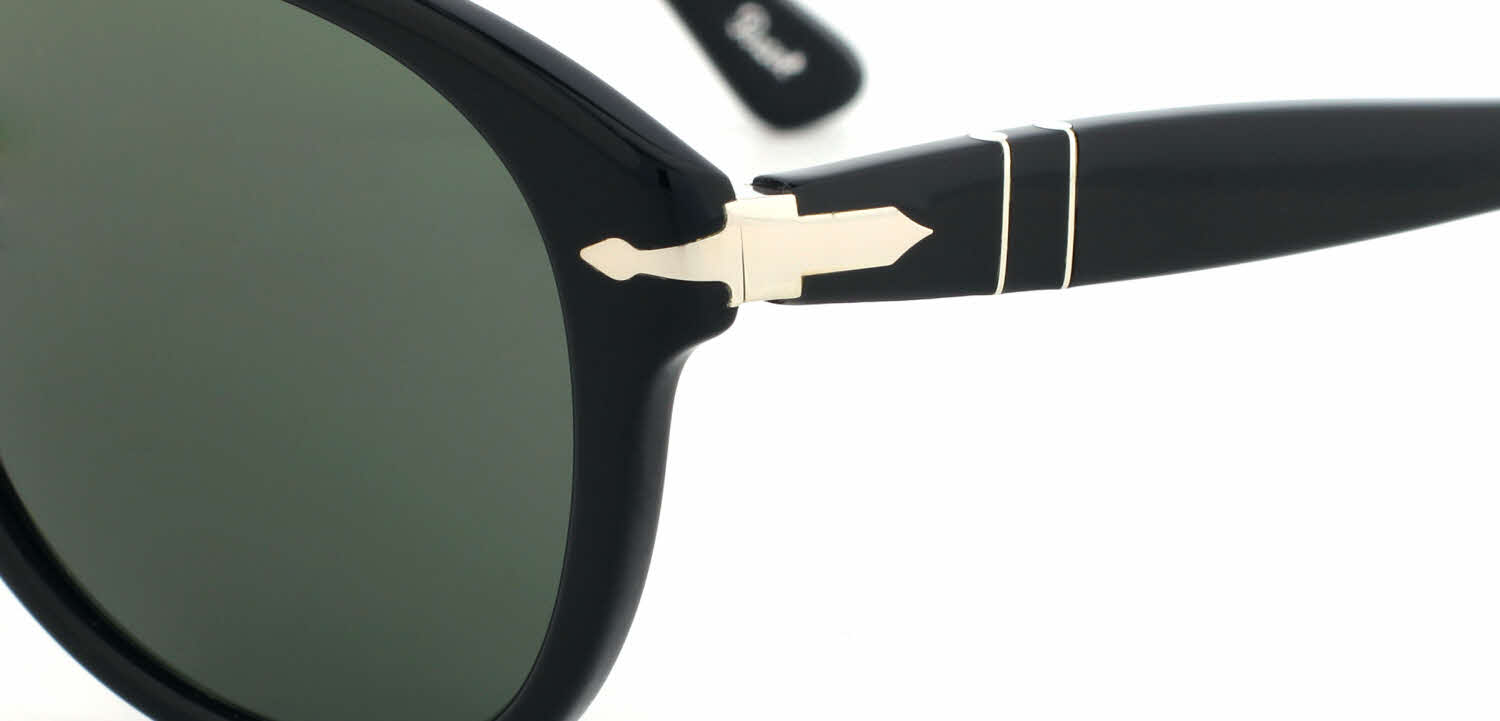 It's a simple but elegant mark of the brand, along with the keyhole bridge built into their most well-known collections – the Original 649, the 714, and the Steve McQueen (named after the King of Cool's iconic look wearing Persol sunglasses in 1968's The Thomas Crown Affair).
In terms of colors, Persol sticks to the classic grays, blacks, browns, and tortoises for the most part. You won't find any flashy or garish neon-colored frames, they stick to the tried-and-true, tasteful hues.
Ray-Ban, on the other hand, has many classic iconic styles too, but with more of a rogue-ish charm and all-American rebel vibe.
The most popular Ray-Ban models are the Aviator, Clubmaster, and Wayfarer.
The company comes out with newer versions of the classics too – like the New Wayfarer with rounder lenses and less forward tilt, or variations like the Olympian Aviator, made out of acetate and sporting a single brow bar.
They have more designs and new styles all the time, so you're not stuck with the same look year after year. Ray-Ban even has a custom lab where you can mix and match their lenses and frames for your own personalized pair of shades.
Persol vs. Ray-Ban: Price
In case you haven't already figured, Persol's premium quality and luxury branding means you can expect a higher price tag. The Original 649 is the most economical, retailing at about $260, while the folding 714 averages about $320.
On the other hand, you're looking at shelling out around $150- $200 on average (full retail) for a pair of Ray-Bans.
You can usually find a deal on Ray-Bans somewhere online, though be sure to purchase through an authorized seller if you want to be sure you're not getting a knockoff.
Good options include EyeBuyDirect, GlassesUSA, or SmartBuyGlasses, where you can often find a sale or price match guarantee. You can even customize a pair of sunglasses with Rx lenses at any of these too.
Similarly, you can also find occasional discounts on Persols through FramesDirect, SmartBuyGlasses, or Gaffos.
Authentic Ray-Ban Sunglasses (Rx-Able)
Italian Luxury or American Icon?
For quality craftsmanship and timeless appeal, Persol tops the charts. Their eyeglasses and sunglasses exude a classy, sophisticated sensibility that you just can't fake.
There's a certain nobility and elegance associated with Italian fashion. And this impression is not an illusion.
Yes, you'll pay for the privilege, but if it's within reach, Persol's handmade sunglasses provide excellent sun protection, comfort, style, and durability.
That said, it's not like wearing a pair of Ray-Bans is too shabby either. The brand's iconic, popular designs are world-renowned and timeless in their own way.
From Hollywood royalty to athletes, musicians, and politicians, American pop culture wouldn't be the same without a pair of Ray-Bans – be it Top Gun with a pair of Aviators or rocking out with a pair of Wayfarers.